Study Shows New Drug Effective
In Treating Parkinson's Symptoms
By Jane Shaskan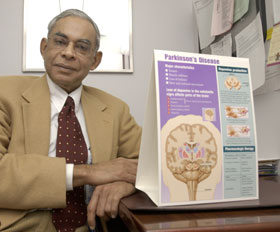 Dr. Mohamed Hassan has researched a new drug treatment for Parkinson's Disease.

Photo by Peter Morenus
A new drug called rasagiline has been shown to lessen the amount of time that patients experience slowness and stiffness between doses of levodopa, typically used for treating these symptoms of Parkinson's disease, according to a study led by a physician at the Health Center. The study was reported in the February issue of Archives in Neurology.
Parkinson's disease is a brain disorder that occurs when certain nerve cells in the brain die or become impaired. The primary symptoms of Parkinson's include tremor, slowness of movement, stiffness, and difficulty with balance. About 60,000 new cases are diagnosed in the U.S. each year, according to the National Parkinson Foundation, adding to the 1.5 million men and women who already have the disease.
Patients taking levodopa experience what physicians call "off time," says Dr. Mohamed N. Hassan, principal investigator of the study. Off time, he says, is the period of time between when the effects of levodopa wear off and when a patient can take another dose.
"Despite optimum treatment with levodopa and other anti-Parkinson medications, patients were experiencing 'off times,' as well as involuntary movements," says Hassan. "We have found that rasagiline significantly lessens these effects."
Participating in the multi-site study were 472 Parkinson's patients who experienced at least 2.5 hours' off time daily. Participants took either one mg or 0.5 mg of rasagiline, or a placebo, once a day. They also kept home diaries during the 26 weeks of treatment noting their off times, according to Patricia Keltonic, a nurse at the Health Center who coordinated the study.
At the end of 26 weeks, patients taking the higher dose of rasagiline showed almost a two hour improvement in their off time; and those on the lower dose showed more than a one hour improvement. Patients on the placebo showed improvement for less than one hour.
"We found that rasagiline was well-tolerated and lessened motor fluctuations and related symptoms in patients with Parkinson's being treated with currently available medications," says Hassan. "The robustness and consistency of these results indicate that they are clinically important.
"In addition to these short-term effects, rasagiline appears to have more long-lasting benefits, suggesting that it may modify the progression of Parkinson's disease," he adds.
Hassan says further studies should be undertaken to explore this possibility: "Rasagiline appears to be a promising new treatment for Parkinson's disease symptoms."