UConn To Publish South Asian American Literary Journal
By Sherry Fisher
When history professor Roger Buckley became director of the Asian American Studies Institute more than a decade ago, he had a dream.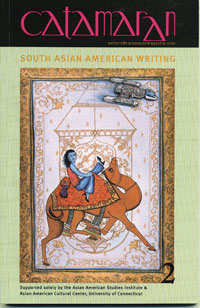 "It was to publish an academic journal," he says, "a journal that would focus on some aspect of the huge Asian-American experience."
That dream has become a reality. The Asian American Studies Institute and the Asian American Cultural Center now publish <i>Catamaran</i>, a journal of South Asian American writing.
There are only three or four Asian American journals, Buckley says, "and this is the only one in the U.S. that deals with the experiences of South Asian Americans. It's quite distinctive." South Asians include people from India, Pakistan, Bangladesh, Sri Lanka, and Nepal.
The semi-annual publication features essays, poems, short stories, and other writings by or about South Asian Americans. One issue had been independently published before it came to the University.
Buckley was approached by the journal's editors, novelist Shona Ramaya and Rajini Srikanth, an associate professor of English and Asian American Studies at the University of Massachusetts, Boston, who had started developing the journal in 2003. They were looking for a partner to fund it. "It had gotten rave reviews, had a fantastic editorial board, and needed a publisher," Buckley says.
He and Angela Rola, director of the Asian American Cultural Center, decided to take on the project. "I made the case that a journal should be at an institution of higher learning," he says. "It's a wonderful opportunity."
<i>Catamaran</i> will "enhance both the Center and the Institute" says Buckley. "It opens the door for UConn students to publish in an excellent journal. It also offers UConn faculty the opportunity to be on an editorial board, which can further their reputations."
That <i>Catamaran</i> already had an editorial board – and a "top notch" one at that – was a plus, adds Rola.
Srikanth, <i>Catamaran</i>'s general editor, says the journal is "an energetic vehicle for the creative expression of the South Asian American community. UConn has recognized its value and has been bold in supporting it."
Ramaya, <i>Catamaran</i>'s chief executive editor, says the journal "is providing a space for new, talented writers and creative artists."
She adds that the journal's team is "delighted that the Asian American Studies Institute and Asian American Cultural Center were so enthusiastic about partnering with us. We consider this a joint production."
An official launch of the journal at UConn will take place Feb. 12 at the Alumni House from 2 to 4 p.m. People may sign up for subscriptions and meet the editors and writers.
Rola says the journal "will give credibility and exposure to the South Asian American voices that so sorely need to be heard.
"I see this journal as a way of showing the greater community that the Asian American community is diverse and includes the South Asian perspective," she says.
She also notes that South Asians are the largest Asian group in Connecticut.
Aamna Qureshi is the journal's student intern. An undergraduate student who is Pakistani American, she will work on subscriptions and help Ramaya solicit submissions from students. Qureshi is also an editor for the Asian American Cultural Center's student journal, Metamorphosis.