Rohner Center Studies Impact
Of Parenting On Relationships
By Zachary Walter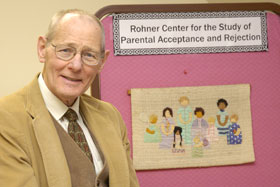 Photo by Melissa Arbo
Reading a college textbook gave Ronald Rohner a direction for the rest of his life.
One section of the book discussed a theory called "parental acceptance-rejection," the field of study that seeks to explain how parenting relationships are developed and what effects they have on both parents and children.
Thinking about the subject sparked a fascination and enthusiasm that has burned for 45 years inside Rohner, now professor emeritus of family studies and anthropology, who was honored by the American Psychology Association with its 2004 Award for Distinguished Contributions to International Advancement of Psychology, in recognition of his lifelong work.
Rohner joined the faculty in 1964, and except for a two-year span at a youth development center in Washington, D.C., has spent his career as a teacher and researcher at UConn. He is the author of nine books and more than 200 articles on topics related to parental acceptance-rejection theory. Today he is the director of UConn's Ronald and Nancy Rohner Center for the Study of Parental Acceptance and Rejection.
The Rohner Center was founded in 1977 and at first practiced general research in family studies. Recently, the Center's efforts have focused on expanding knowledge of the parental acceptance-rejection theory. At the heart of this effort is a test, designed by Rohner and his staff, that can quantitatively measure relationships.
The test can be interpreted and used by different cultures and in regions throughout the world, and the answers can be compared. One form of the test is 11 pages long and can easily be filled out by marking the appropriate boxes. Although they seem simple in design, the test has become popular because of the accurate results it yields.
The Rohner Center's information and resources are currently being used by more than 30 different agencies worldwide. Among them are family therapists, educators, parental rights organizations, clinicians, and legal specialists on a range of topics, including child welfare, care for the elderly, school violence, child custody, and other areas associated with parental relationships.
Clinical practices are administering the tests when clients first come to them. Rohner says the parental acceptance-rejection test is gaining popularity due to the increasing percentage of patients who have relationship issues.
"About 80 percent of the clients that seek clinical help are having relationship issues or are in distressful relationships," said Rohner.
The test is praised for its efficiency because it gives the practitioner a sense of what the critical psychological issues and relationship issues are. "The test can do in 15 minutes what can normally take up to three months," said Rohner.
The test produced by Rohner and his staff is also used to measure the effectiveness of clinical treatment. Following a pre-test/post-test model, the surveys are administered both at the beginning and end of the clinical relationship. Rohner's test and the treatment plan that follows are highly successful. "There is a faster treatment program," Rohner said, "and the intervention is more successful."
Rohner points out that the test has a greater scope than their effect on individual patients. "It isn't just the individual who wins," he says, "it's everyone who is important to that individual. Everyone who stands out, not only in the immediate family but also in the extended family."
Researchers also have begun to study intimate adult relationships by examining the acceptance-rejection theory to see how it applies in any kind of "attachment relationship" throughout a person's lifetime.
"We are looking to constantly expand the parental acceptance-rejection theory and looking at new questions," Rohner said.
Although he has used his test in many other countries, including India, Bangladesh, and Japan, Rohner is also looking no further than just outside his office on campus. He is now conducting a study among 300 UConn students that seeks to correlate intimate relationships and the details of campus life. He is also interested in seeing if childhood upbringing relates to those intimate relationships.
To date, Rohner has not actively administered his parental acceptance-rejection test in clinical settings, but has instead supplied practitioners with the test and his knowledge. In the future, however, he hopes to continue the advancement of the parental acceptance-rejection theory by being present at therapy sessions to further his understanding.