Financial Counselors Help Patients
Find Ways to Pay for Treatment
By Pat Keefe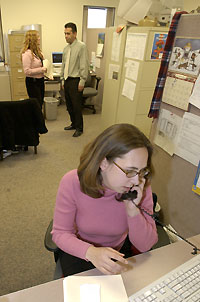 Photo by Peter Morenus
Patient empowerment is enjoying a resurgence in U.S. hospitals these days and is being codified in patient bills of rights. But one aspect of it, patient financial counseling, has been a mainstay of the John Dempsey Hospital from the start.
"We're patient advocates," says William Emerick, a patient financial counselor and a Health Center employee since 1982. "We explain to patients their financial rights, what options they have financially, and we help them explore those options."
The office – now four counselors and a supervisor – was established in the 1970's and it deals with thousands of patients a year. The office also helps keep the hospital's finances in the black by optimizing reimbursements.
The counselors' knowledge is vast and specialized: insurance coverages and plans; state programs; private programs; charities; Medicare and Medicaid. They also know the ins and outs of applicable state regulations, and how to guide an application through an administrative maze of insurance, offices, and bureaus.
"We're motivated by patient empowerment," says John Resendes, patient access department supervisor. "We meet with the patients and give them all the information they need to decide what's good for them. We highlight the pros and cons of payment options, we help them determine if they're eligible for federal, state, local, or hospital programs, and we enable them to make better decisions based on correct information. That's patient empowerment in its most basic sense."
There are several ways to initiate the financial counseling process. Many patients are referred by the Emergency Department or the clinic they're attending. Others seek out the office when they realize they don't know what their insurance covers. Still others requiring specialized services only available at the Health Center, and have been referred by out-of-state physicians or agencies. And a few find out about the office from InfoLine or the Internet.
Not all, but many of the patients are disadvantaged.
"As time goes on there seems to be an increasing need," says Emerick. "People without jobs or without insurance still have medical needs. There's a greater demand for assistance."
The options available to the patients are numerous but not infinite. Medicare, Medicaid, and Title 19 are federal programs for the elderly and the indigent. Husky Health, ConnPACE, and SAGA are state programs providing for, respectively, children, medication for seniors, and those receiving general assistance.
Charitable initiatives include the national program for maternal fetal health, Healthy Start, and local programs such as the Brainard Fund, which covers the towns of the Capitol Region, and the Murphy Fund in West Hartford. Finally, hospitals have their own, limited resources.
"We try to give the patients encouragement," Emerick says. "Many patients are reluctant to obtain medical services because they're nervous about financial liability. But we show them that options exist, and we work with them to make those options reality."