Skill, Compassion, Optimism
Characterize New Cancer Surgeon

Cancer surgeon Dr. Wayne A.I. Frederick confronts some of the most pernicious types of cancer with the latest surgical advances, the newest knowledge of the molecular and cellular changes that happen long before cancer is detected, and, most importantly, a refreshing sense of optimism.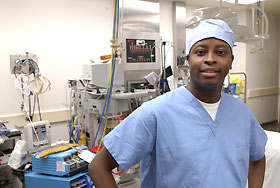 Photo by Peter Morenus
Frederick is a surgical oncologist whose specialty is the surgical treatment of GI cancers, such as cancers of the liver, colon, spleen, and pancreas. This is often a daunting task, as liver and pancreatic cancers, in particular, have among the lowest cure rates of all cancers.
Frederick says people often ask him if it's difficult working with patients who don't have promising diagnoses. "I usually respond by saying man's greatest imperfection is his passive acceptance of his imperfection," he says, adding that he sees tremendous hope every day for his patients.
"The field of genetics is opening up many new doors and expanding our understanding of cancer in its earliest stages," he says. "Plus, my greatest sources of inspiration are my patients. I'm always amazed by their strength and character."
Frederick joined the Health Center in July 2003, after completing a fellowship in surgical oncology at the University of Texas, M.D. Anderson Cancer Center. There he worked side by side with some of the most accomplished surgical oncologists in the country and learned the latest surgical techniques, as well as new approaches for individualizing each patient's care.
"People who choose the field of surgical oncology tend to be optimists ... They know it's never appropriate to give up hope," says Dr. Raphael Pollock, head of the division of surgery and professor and chairman of the department of surgical oncology at M.D. Anderson Cancer Center. "Wayne embodies that optimism, and is determined, tenacious, and focused on finding the best approach for every patient he cares for."
Frederick says his training at M.D. Anderson prepared him well for his work at the UConn Comprehensive Cancer Center, where he is part of a multidisciplinary team of caregivers.
"For every patient with a GI cancer, we meet as a team and discuss the best approach to care," he says. The team also includes medical oncologists, radiation oncologists, oncology nurses, nutritionists, and social workers.
Some of the newer surgical techniques Frederick brings to the Health Center grew out of multidisciplinary approaches. For example, he offers patients with advanced rectal cancer a surgical approach to preserve the sphincter and decrease the odds of the patient needing a permanent colostomy. Before the surgery, patients are treated with chemotherapy and radiation therapy to reduce the size of the tumor.
Frederick also offers new surgical options for patients with liver cancer, including radio frequency ablation, which uses electrical energy to create heat and destroy cancer tissue.
Frederick has a keen interest in research initiatives related to GI cancers. He is working closely with Dr. Joel Levine, a GI specialist, and Dr. Daniel Rosenberg, a molecular medicine researcher, to study molecular changes within the intestine that could lead to colon cancer. Together, they are creating a comprehensive colon cancer program, and following patients who are at high risk for developing colon cancer.
"To really contribute to this field, you have to be part of research - you have to work in an academic medical center," says Frederick.
Dr. Carolyn Runowicz, director of the UConn Comprehensive Cancer Center, says "Wayne is a very well trained surgeon, who brings a new dimension to the department of surgery and the Cancer Center. He is a tremendous asset to the clinical program and GI research."
In a short time, Frederick's work has been recognized by several national organizations. He was recently appointed to the Clinical Affairs Committee of the Society of Surgical Oncology, and in 2003 he was named to the Committee of Young Surgeons of the American College of Surgeons.
Along with his surgical oncology fellowship at M.D. Anderson Cancer Center, Frederick also completed a research fellowship there in GI cancers. He is a graduate of Howard University and Howard University College of Medicine, where he completed an accelerated six-year, combined B.S. and M.D. program.
At Howard, he was influenced greatly by Dr. LaSalle Lefall, an expert in surgical oncology and past president of the American Cancer Society, who encouraged Frederick to pursue surgical oncology. In 1995, while Frederick was at Howard, Lefall became the first African-American president of the American College of Surgeons.
Frederick grew up in Trinidad. He says he was always interested in science and medicine, and was also inspired by his mother, Frances, who is a nurse.