Marketing Professor Studies Economic
Value Of Hospital Volunteers

They never ask for pay. They've been around a long time. They're generally overlooked, and often unappreciated.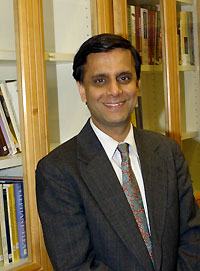 Photo by Dollie Harvey
And yet, according to Narasimhan Srinivasan, they save American hospitals billions of dollars each year.
They're called volunteers.
Srinivasan, a professor of marketing, and Femida Handy, a professor of economics at York University, have conducted a two-year study of the changing effects of volunteers on the quality of care in hospitals, and the benefits of professional volunteer resource management.
The results were published in a recent issue of the Nonprofit and Voluntary Sector Quarterly.
"Our research not only was able to put a numerical value on volunteerism," Srinivasan says, "but also showed that the health sector could not possibly afford to replace volunteers in today's economy."
A dramatic and unplanned demonstration of the value of volunteers occurred during a follow-up research period. When the SARS crisis occurred in Toronto, volunteers were not allowed in the hospitals. "Patients, staff members, and CEO's immediately felt the loss," says Srinivasan.
He says he was drawn to the research because although it is generally assumed that the benefits of using volunteers far outweigh the costs to the hospitals, the actual pay-off has not previously been quantified.
The researchers studied 31 hospitals in the Ontario, Canada, area. It found, among other things, that hospital volunteers contributed approximately 70,000 volunteer hours to each of the 31 hospitals. This represented an average value of $1.2 million per hospital against an average investment of $185,405. Hospitals, Srinivasan says, derive an average of $6.86 in value for every dollar spent.
"That's a 684 percent return on investment," he says. "And when you extend these results to the hospitals of major cities within the United States, you realize that volunteers are worth billions and billions of dollars."
The American Hospital Association surveys about 6,000 hospitals each year. Extrapolating from the estimate of $1 million per hospital, the cost savings volunteers provide to hospitals in the U.S. works out to $6 billion a year, he says.
"Take a look around you. Girl and Boy Scouts. Little League. The local library. PTA. Local town government. They are all central aspects of our community, and it's volunteers who sustain our society in a non-market manner," says Srinivasan.
John Dempsey Hospital at the UConn Health Center saved almost a million dollars in the year 2003 through the use of volunteers doing a range of activities, from manning the information desk to transporting patients, according to Patricia Verde, director of the Health Center's Departments of Social Work, Chaplaincy, and Volunteers. In 2003, she says, the hospital's 308 volunteers gave 50,741 hours of service, valued at $814,393.
Srinivasan, an active volunteer himself, says his research demonstrates something he has long known through personal experience: that voluntary organizations, rarely viewed as creators of wealth, actually generate significant and quantifiable economic value from the contributions of volunteers.
The use of volunteers has recently taken on a controversial aspect, says Srinivasan, as reduced hospital budgets both in the United States and Canada have forced hospital administrators to rely more and more on volunteers, to the chagrin of paid workers who have suffered cutbacks.
Other major trends that the research showed include: a substantial shift in the volunteer base, with younger people replacing older volunteers and a corresponding decrease in long-term commitments; a greater number of educated and skilled health care volunteers with identifiable goals for themselves besides contributing to the community; increased expectations for interesting and varied volunteer assignments; and a preference among volunteers to serve for short, well-defined periods of time.
The study was based on in-depth interviews with more than 800 volunteers, volunteer managers, and hospital administrators from 31 hospitals in the Toronto area that have an average of 468 beds, use at least 100 volunteers, and have at least one paid staff person responsible for volunteer administration. The number of volunteers ranged from 125 to 3,240, with an average of 700 at each site.
Although the study focused mainly on quantifiable data, the researchers also looked at qualitative issues.
"As hospitals grow larger and become more specialized and technological ly sophisticated, the effective use of volunteers is vital to maintaining a personal touch," Srinivasan says.
When it comes to activities such as accompanying patients on outings, providing companionship one-on-one, giving support to patients and families, doing errands, or taking patients from one facility to another, the human touch is just as important as the money saved, if not more so, he says: "Enhancing a patient's quality of life or easing the workload of a staffer simply cannot be easily monetized."