Business Student Translates
Experiences Into Movie Project

When Shiv Sharma was offered the opportunity to help make a movie last summer, he couldn't resist. "It was a once-in-a-lifetime chance," he says.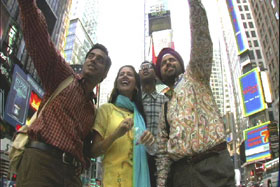 Photo by Peter Morenus
A senior majoring in international business, Sharma, who is also an honors student, was born and raised in Delhi, India. He moved to the United States when he was 19.
"I struggled a lot when I came to this country," he says. "It was not easy to acclimate to a new culture." That's what the film is about: clashes between cultures.
Sharma, 31, who had no previous experience in the world of film, was a producer, production and marketing manager, and actor for Just Indian, an independent film, written and directed by Sonny Jhamb, an 'old friend' of his from Delhi.
Sharma says the movie, made on 'a shoestring budget' is about the struggle between two groups of Indian college juniors, who represent two poles of the Indian community - the FOB's or 'fresh off the boat' Indian immigrants who haven't become assimilated to American culture, and the ABCD's, or 'American-Born Confused Desi,' who embrace American culture and abandon their Indian roots. 'Desi' is a slang term Indians use for themselves.
The 100-minute film was shot in New York City, at Columbia University and at other locations. The film, in English with some Hindi, took 30 days to make.
In the beginning of the movie, "the groups don't trust each other, and look down on each other," Sharma says. "The American-born Indians are ashamed of the newcomers because of their thick accents, the way they dress, and other cultural differences. I could relate to that, because I was an FOB at one time. I've also experienced what the ABCD's feel. That's what pulled me into doing the movie."
Sharma says the problems faced by the characters in the movie "are not limited to Indians. They could be Chinese, Irish, or Latin American. It's something that crosses all cultures."
In the film, Sharma, who has no prior acting experience, plays the character of Cherry, an Indian Sikh.
"The movie sheds light on a new kind of classism, which is not based on financial status, race, gender, or religion," Sharma says, "but the date of entry into the U.S. While there are deep-rooted differences between the groups, there is also an underlying need for them to mend the fences that keep them apart.
"The ABCD's, raised and nurtured in American society, struggle to understand the culture of their parents; while FOB's, who are born in India, try their best to learn how to assimilate into America's melting pot."
Sharma says colorful vignettes are used throughout the film to depict the many misconceptions and stereotypes. The film tries to present the two viewpoints objectively, Sharma says: "Its basic message is to champion the call for one nationality - 'Just Indian'. I think people from all backgrounds and ages will be able to empathize with the humanity of these characters' struggles and yearnings."
Sharma came to the U.S. in 1991, and lived in New York, where he attended the City University of New York. He worked in retail while studying for his bachelor's degree part time.
In 1999, he quit his job, moved to Connecticut, and bought his own business, a discount store in Newington. He attended Central Connecticut State University for two semesters, and transferred to UConn in spring 2002. He plans to graduate in December.
Sharma says his courses in the business school were of great help to him in making the film. "I learned a lot of things in my courses that I applied during the making of the film, like managing the project, which had to be finished within budget in a certain amount of time, negotiating a contract, and leadership skills."
Sharma says Just Indian is now at film festivals, and should be distributed soon.
"I'm very proud because I'm part of a film that has a good social cause," Sharma says. "It gave me an opportunity to make a difference."
More information about the movie is available at the website www.justindianfilm.com.