Health Center Surgeon Recognized
For Lifetime Achievements

Dr. Joseph Civetta, a professor of surgery and vice-chairman of the Department of Surgery at the Health Center, was honored recently with the Society of Critical Care Medicine's Lifetime Achievement Award.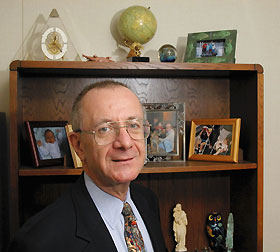 Photo by Peter Morenus
Civetta was cited for his many scientific and clinical advances in critical care medicine, as well as his organizational vision and leadership. The award was presented last month during the 33rd Critical Care Congress held in Orlando, Fla.
"This Lifetime Achievement Award is an award I will cherish above all others," he says. "The society helped me progress from a novice to leadership roles."
The Society of Critical Care Medicine is a professional organization devoted to the advancement of multidisciplinary, multiprofessional intensive care through excellence in patient care, education, research, and advocacy. Originally a small 'club' of established critical care practitioners, the society grew into an organization that is now well known for providing education and learning. The annual meeting functions as a primary educational experience, and the presentation of papers and scientific sessions helps shape young investigators into the critical care leaders of the future.
Civetta joined the society in 1972, at a time when there was an explosion of new critical care knowledge and technol
use of cardiovascular monitoring in critical care, and he and his physicians' group were one of the first to use pulmonary artery catheters in surgical patients, not just in cardiology patients.
Civetta was a co-author of the first paper on pulmonary artery catheters outside the cardiology literature; and he was one of a group that changed the approach to ventilatory support. This opened the door to alternatives in respiratory failure treatment.
Since then, the development and application of new approaches from around the world have decreased the mortality rate for adult respiratory distress syndrome from 90 percent to 30 percent.
"I'm proud to have played a role instituting improvements in clinical practice," Dr. Civetta says. "Much of what I have done in the past 35 years was process oriented. I've been able to take existing physiological principles and modify them for clinical practice."
In 1981, he became the society's president at age 43. His tenure coincided with the Society's World Congress.
"I became the de facto president of the 1981 World Congress," he says. "It was a memorable event - I was able to meet all the leaders of critical care from around the world."
During his year as president, and afterwards, the society grew. Young critical care professionals were encouraged to join early in their careers, and the membership expanded.
"A society that started with 20 members now has a membership of more than 11,000," he says.
Civetta received a bachelor's degree from the College of the Holy Cross in Worcester, Mass., and a medical degree from the Boston University School of Medicine. He completed a surgical residency at Massachusetts General Hospital in Boston.
In addition to the Society of Critical Care Medicine, he is a member of the American Academy of Pain Medicine, the American College of Surgeons, the American Surgical Association, the Association of Program Directors in Surgery, the New England Surgical Society, and the Society of University Surgeons.
Civetta and his wife, Judith Hudson-Civetta, his research associate for the last 20 years, have collaborated on many scientific and review articles. He is author or co-author of more than 350 publications, including peer-reviewed research, abstracts, book chapters, and books. He is the recipient of nearly 30 awards and honors.