Award-Winning TA Prepares
Students For Business World

A student describes how to make a structure out of Tinker toys, while a classmate types the directions into a computer: "Take the smallest round spool and connect it with a short blue stick." With a click of the mouse, he e-mails the information to a group of students in another room, who try to recreate the Tinker toy piece from the instructions they have just received from their classmates.
If you think this is an exercise in engineering or psychology, think again. It's a lesson in business.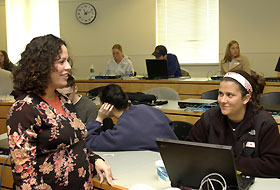 Photo by Dollie Harvey
"I created it to teach students how to communicate virtually," says Rowena Ortiz-Walters, a teaching assistant in business management. "Learning how to get ideas across without being face-to-face is a skill they will need in the workplace. People developing a product in China may need to describe that product to someone in London or Japan."
Ortiz-Walters, who describes herself as a "very creative person," says she changes her management course every year. "I like trying new things," she says. Her teaching skills were recognized by the University when she received the 2003 Outstanding Teaching Assistant Award.
Ortiz-Walters earned a bachelor's degree in chemistry from UConn in 1992 and a master's degree in business from the University of New Haven in 1999. She is currently working on her doctorate in business management, and plans to complete it this year.
After receiving her undergraduate degree, Ortiz-Walters spent three years working at Uniroyal as a chemist, where she formulated engine oils for cars. She then decided to study for a master's degree in business, and took classes at night. "I found it so intriguing, that I decided to go for doctorate," she says.
Ortiz-Walters says her experiences in the workplace have helped her in teaching. "I learned interpersonal skills, how to work in teams, and how to deal with a diverse group of people," she says. "I transfer that to the classroom, and share my experiences with them, especially as a Hispanic woman in the workplace."
Ortiz-Walters says she learns something new each semester.
"Each year is a stepping stone," she says. When she first started teaching, she focused on team-oriented assignments, her own preference in learning. But when she saw that some students were uncomfortable with that approach, she designed other tasks to meet their needs, such as reviewing articles on business issues and explaining them to her online.
Sometimes she teaches an entire class online. An online class discussion about business ethics drew "even the most quiet students" into a debate, she says. "There were threads upon threads of comments by students regarding a question about corporate responsibility."
Ortiz-Walters uses self-assessments to help her students link what they've learned in class to their own careers, success, and satisfaction. They are required to fill out self-assessment forms - which rate their abilities on different skills and concepts such as motivation, leadership, and diversity - at both the beginning and end of the semester. In their final paper, they share what they've learned throughout the semester, and how they personally have grown.
"This is an opportunity to reflect on what they've learned," she says. "They can apply it right to their lives."
Christopher Quimby, a master's degree candidate in business who took Ortiz-Walters' Management 201 class, says he liked the way she incorporated projects and short-term teamwork assignments into the classroom.
"It enabled me to see myself as a leader and work on strengths and weaknesses," he says.
Jacob Kozak, an eighth-semester business management major, says "Her lectures through group work are engaging and help illustrate the points we cover in class."
Ortiz-Walters says she continually strives to introduce innovative materials to the classroom. These include watching videotapes of group tasks and making collages for self-expression.
Lucy Gilson, an assistant professor of management, describes Ortiz-Walters as a 'high-energy teacher' who spends a lot of time working with students.
"She always tries out new ideas and solicits feedback from them," says Gilson, who is Ortiz-Walters' dissertation chair. "She has them evaluate lessons, and based on their feedback, incorporates changes, if necessary. She's a great teacher."
Ortiz-Walters says she loves seeing the personal growth of her students.
"By the end of the semester, you see the friendships that have developed among them and see them doing things they never thought they could do," she says. "That fascinates me."