In an age when girls are marrying younger for the first time in 20 years and a nation obsesses over Sarah Palin's high heels, Regina Barreca, a professor of English literature and feminist theory in the College of Liberal Arts and Sciences, wants to know, what happened to feminism?
Barreca – a best-selling author, humorist, and nationally-acclaimed speaker – explores the perceived decline of feminism in the 21st century and shares a few laughs along the way in her latest book – It's Not That I'm Bitter … or How I Learned to Stop Worrying About Visible Panty Lines and Conquered The World.
"Who hijacked feminism?" says Barreca, whose humorous take on the female experience has led to appearances on Oprah, the Today program, 20/20, and 48 Hours.
"I used to assume my students were feminists," she says. "It seemed like everyone got my jokes and laughed. Now I have to explain myself."
Barreca says she's surprised by the perceived changes in attitude.
"Why are my students so reluctant to use the 'F-word'? And by the 'F-word,' I mean Feminism," she says.
"It seems like 21st century feminism has moved from a backlash to a whiplash. Talk about feeling bad about your neck!"
Besides writing popular books, Barreca is a regular contributor to The Chronicle of Higher Education. She writes a weekly blog for Psychology Today and a monthly column for Education World. She is also a columnist for the Hartford Courant. Some of her previously published books have been translated into eight different languages.
Barreca celebrated the national release of It's Not That I'm Bitter …. with a launch party and book signing at the UConn Co-op on May 12. The book (St. Martin's Press, 2009) has been well received by critics.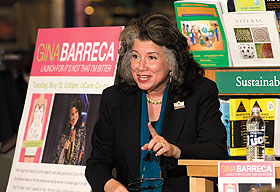 English professor Regina Barreca speaks about her latest book It's Not That I'm Bitter... during a publication launch event at the Co-op on May 12. Photo by Frank Dahlmeyer
"University of Connecticut English Professor Barreca offers feminism for the everywoman in these humorous essays," says Ms. magazine in its Spring 2009 issue.
"Expect poignant insights tucked between the laugh lines."
And from Publishers Weekly in May 2009: "Fans of Nora Ephron's I Feel Bad About My Neck: And Other Thoughts on Being a Woman will find humor along with serious insights about women and aging in Barreca's latest challenge to women to 'stop obsessing over hymens, husbands, and hangnails and once again direct our attention outward to the larger issues of ... the creation of genuinely significant opportunities for women in all workplaces.'
Barreca grew up in Brooklyn and Long Island. She received a B.A. from Dartmouth College, an M.A. from Cambridge University (where she was a Reynolds' Fellow), and a Ph.D. from City University of New York. She is the founding editor and co-editor of the scholarly journal LIT: Literature Interpretation Theory, now in its 20th year
Barreca's other works include the best-selling They Used to Call Me Snow White, But I Drifted, Perfect Husbands (and Other Fairy Tales), Sweet Revenge: The Wicked Delights of Getting Even, Untamed and Unabashed: Essays on Women and Humor in British Literature, and Too Much of a Good Thing is Wonderful. Her book Babes in Boyland: A Personal History of Coeducation in The Ivy League, was published by the University Press of New England in 2005.
More information about Barreca's latest book, including scheduled events can be found on her web site.