Jim Walter, associate vice president for communications at the Health Center, has been appointed as the University's associate vice president for communications, effective July 1.
He will be responsible for marketing and public relations for all the University's campuses, including the Health Center.
University President Michael Hogan says having a single communications director for the entire University will promote consistency and integration across the campuses.
"UConn's two communications groups have a long and successful history of close collaboration," said Hogan in an e-mail announcing the appointment.
"In bringing these groups under single leadership, I have charged Jim with identifying opportunities that further enhance our messaging and strengthen our overall reputation."
Walter will report to President Hogan, and will be part of the University's senior management team, along with other vice presidents and managers who report directly to the president.
He replaces Scott Brohinsky, who will retire July 1.
"Over his long term of service to UConn, Scott has worn many hats," said Hogan, "always with success and as a loyal advocate for the University."
As part of the reorganization, Government Relations and the Alumni Association will now report to the president.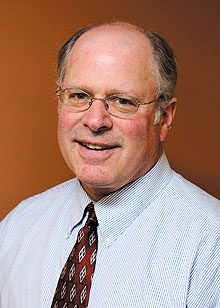 Jim Walter, associate vice president for communications. Photo by Peter Morenus
Walter will divide his time between the Storrs campus and the Health Center, but will be based in Storrs. He says the communications offices at the Health Center and the Storrs campus already work closely together.
"We are not starting from scratch," he says.
"We have in many ways exemplified the concept of 'One University,' but there are still many opportunities to extend it.
"The work never ends to grow the University's reputation and have people understand and appreciate all the good work that occurs at the University every day," he adds.
"A strong reputation is essential to the strength of an organization."
Walter, who joined the Health Center in 1996, has planned and directed communications and marketing for the medical and dental schools and the hospital, and served as the primary media spokesperson.
He holds a faculty appointment at the School of Medicine as an instructor in the Department of Community Medicine and Health Care.
Walter previously held positions in marketing and communications with Osteotech Inc., MED Communications, and Johnson & Johnson.