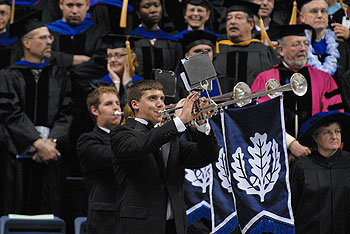 Trumpeters herald the arrival of the platform party at the Graduate Commencement ceremony held in Gampel Pavilion on May 9. Photo by Jessica Tommaselli
Photo Extra
UConn junior Zach Fraser with students at Clark Elementary and Middle School Academy, during a Husky Sport fund raiser on May 1. Photo by Robert A. Frahm
May 21, 2009 ¦ Volume 27, No. 31
UConn to host 2011 World Youth Peace Summit
Connecticut Gov. M. Jodi Rell announced on May 14 that the World Youth Peace Summit will be held in Connecticut in the summer of 2011, with the University of Connecticut serving as the host institution. Nearly 20,000 participants are expected. Read more...
Fulfill your own dreams, Shriver tells graduates
As a member of the prominent Kennedy family and chairman of the international Special Olympics serving 2.5 million athletes in more than 165 countries, Timothy Shriver knows something about the pressures of meeting other people's expectations. Read more...
Use law career to serve others, says human rights attorney
Many Americans likely know Cherie Blair as the wife of former British Prime Minister Tony Blair, but she is also an accomplished human rights attorney and advocate for women. Read more...
Two graduate students awarded Fulbrights for overseas research
Jonathan Winterstein, a doctoral student in materials science & engineering, will carry out research for nine months at the Austrian Centre for Electron Microscopy and Nanoanalysis and Amanda Wendt, a doctoral student in ecology and evolutionary biology in the College of Liberal Arts and Sciences, will continue her research on bats and their role in the regeneration of tropical forests in Costa Rica. Read more...
More headlines...

Multimedia...

RSS Feed of the UConn Advance

News Links

UConn News | UConn Health Center News | UCONN Magazine Athletics News

How To...

Suggest a story idea: please send e-mail to advance@uconn.edu, with "Story Idea" in the subject line. Please give as much notice as possible, and at least two weeks. Requests will be considered based on relevance to a broad audience and the availability of resources.

Have an event listed in the Advance Calendar section: please enter it online at events.uconn.edu at least two weeks prior to the date of the event. Please note that the Advance Calendar contains only events occurring during the week beginning with the date of publication.

Request permission to re-use a story or photo: please send e-mail to advance@uconn.edu, with "Re-use Request" in the subject line.

Make a change to the mailing list, please send e-mail to advance@uconn.edu, with "mailing list update" in the subject line. Please note that the Advance does not maintain separate mailing lists, but uses the databases maintained by the human resources departments at Storrs and at the Health Center. If you do not have access to e-mail, please send your request in writing to Advance, University Communications, 34 North Eagleville Road, Storrs, CT 06269-3144, or by fax to 860-486-2063, or call 860-486-3530.