Hazelnut encrusted salmon. Lasagne lovers' delight. Flaky buttermilk biscuits. These are among the some 100 recipes in Robert Landolphi's new cookbook.
What makes this book of recipes special is that it was written for those who are allergic to the gluten in wheat and other grains.
"The recipes in my Gluten Free Every Day Cookbook are the kinds of dishes that people who have celiac disease and are on a gluten-free diet thought they'd never be able to eat again," says Landolphi, a certified culinary arts instructor, chef, and culinary operations manager at UConn. "You don't have to give up the foods you love."
Celiac disease, a disorder that begins in the small intestine, is triggered by gluten, the main protein found in wheat, barley, and rye. Gluten is found in breads, cereals, and pastas. Processed foods, coatings, soups and sauces and dressings may contain hidden sources of gluten.
The disease causes an immune response in the cells lining the small intestine, preventing absorption of nutrients. It leads to varied physical symptoms.
Landolphi says his gluten-free journey began when his wife became ill.
"In 1996 my wife started to develop a variety of symptoms: rashes, tingling in her fingers and toes, and hair loss," he says. Eventually her reproductive system shut down.
Even after many visits to specialists and myriad tests, doctors still couldn't pinpoint what was wrong. They had no idea her symptoms were food related.
Four years after her symptoms began, a relative sent her an article that discussed an under diagnosed disease – celiac.
"My wife thought she'd try a gluten-free diet to see if anything changed," says Landolphi. It did. Her symptoms disappeared. A test confirmed her celiac disease.
Armed with his love of cooking, a culinary arts degree from Johnson and Wales University, "and a desire to keep my wife healthy," he says, he started experimenting.
"I tried various combinations of flours, such as sorghum, tapioca, corn, and rice flours, and other gluten-free ingredients and developed a smorgasbord of dishes that my wife could eat," he says.
Landolphi started to give cooking demonstrations for support groups, friends, and stores such as Wild Oats and Whole Foods.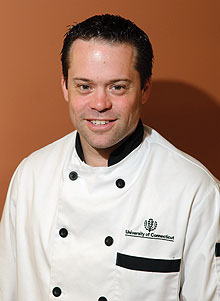 Chef Robert Landolphi has written the Gluten Free Every Day Cookbook. Photo by Peter Morenus
"When people started to taste the dishes, they wanted to know if I had a cookbook," he says. "I decided to put my recipes into a book to help my wife, and to help all the other people who have to eat gluten free. I couldn't see them going through life having to give up so many food items."
Landolphi's Gluten Free Every Day Cookbook has recipes for crab cakes, macaroni and cheese, his grandmother's Italian meatballs, and beer battered onion rings (made with gluten free beer). There's even a recipe for country style chicken pot pie with a cream cheese crust.
Then there are more exotic dishes, like toasted coconut shrimp with peach marmalade dipping sauce.
"All the ingredients needed are easy to find," he says. "I wanted to make peoples' lives easier and more enjoyable."
The book also includes information on gluten-free flours and starches, nut meals and seeds, cooking techniques, and a chef's perspective on eating out.
"There has been a remarkable increase over the past five years in the number of people diagnosed with celiac disease," says Landolphi, noting that many restaurants offer gluten-free menus.
"I recommend calling the restaurant beforehand, if you can. "If you just show up, talk to a manager. The manager will check the ingredients and talk to the chef. They want you to have a good experience."
Landolphi says that new students who are gluten intolerant should contact dining services either the semester or summer before arrival, or, if already on campus, as soon as possible after a diagnosis is made.
"We'll meet with parents and the student, a registered dietitian and a dining hall chef who can answer questions about the gluten-free menu on campus," he says.
Dining services – which already offers gluten free bagels, breads and muffins – is beefing up its options: Next semester, gluten free entrees for breakfast, lunch and dinner will be offered in every dining hall on campus, and Union Street Market.