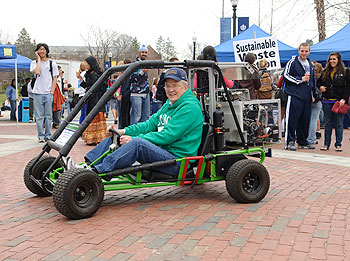 President Michael Hogan drives a fuel cell-powered go-kart built by the Connecticut Global Fuel Cell Center during a celebration of Earth Day on April 22. Photo by Peter Morenus
Photo Extra
Kathy Sanner, left, UCPEA's first vice president for collective bargaining, and UCPEA President Kevin Fahey discuss concessions to the state and University during a meeting held in the Jorgensen Center for the Performing Arts. Nearly 800 UCPEA members attended the meeting. Another 100 members at the regional campuses discussed the concessions via interactive video. Photo by Peter Morenus
April 27, 2009 ¦ Volume 27, No. 29
Uphold goals, says Hogan in State of University address
President Michael Hogan has reaffirmed the University's commitment to its strategic goals despite the difficult economic climate. Speaking to an audience of faculty, staff, and students during his first State of the University address on April 20, Hogan said, "Our first priority is to preserve the exceptional standard of education we've all worked so hard to achieve." Read more...
Three faculty named Distinguished Professors
Two faculty members in the College of Liberal Arts and Sciences and one in the School of Pharmacy have been named Board of Trustees Distinguished Professors. Read more...
Biomedical engineer studying heart's response to valve repair
Wei Sun, an assistant professor of biomedical engineering and mechanical engineering, was recently awarded an American Heart Association National Scientist Development grant of more than $300,000. Read more...
Policy on rehiring retirees approved by Trustees
The Board of Trustees last week approved a policy regarding rehired retirees. The policy permits rehiring retirees "on a limited basis when the operational requirements and financial benefits outweigh the use of regular, continuing employment categories." Read more...
More headlines...

Multimedia...

RSS Feed of the UConn Advance

News Links

UConn News | UConn Health Center News | UCONN Magazine Athletics News

How To...

Suggest a story idea: please send e-mail to advance@uconn.edu, with "Story Idea" in the subject line. Please give as much notice as possible, and at least two weeks. Requests will be considered based on relevance to a broad audience and the availability of resources.

Have an event listed in the Advance Calendar section: please enter it online at events.uconn.edu at least two weeks prior to the date of the event. Please note that the Advance Calendar contains only events occurring during the week beginning with the date of publication.

Request permission to re-use a story or photo: please send e-mail to advance@uconn.edu, with "Re-use Request" in the subject line.

Make a change to the mailing list, please send e-mail to advance@uconn.edu, with "mailing list update" in the subject line. Please note that the Advance does not maintain separate mailing lists, but uses the databases maintained by the human resources departments at Storrs and at the Health Center. If you do not have access to e-mail, please send your request in writing to Advance, University Communications, 34 North Eagleville Road, Storrs, CT 06269-3144, or by fax to 860-486-2063, or call 860-486-3530.