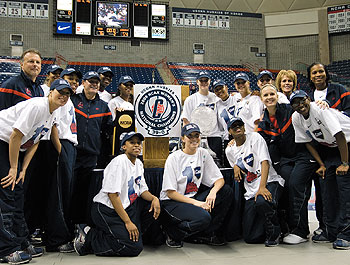 The UConn women's basketball team gathers in Gampel Pavilion, after winning its sixth NCAA National Championship in St. Louis on April 7. The Huskies beat Louisville 76-54, finishing the season 39-0, and became the first team, male or female, to win every game by 10 or more points. Photo by Jessica Tommaselli
Photo Extra
Kathleen Segerson, left, professor of economics, the first Philip E. Austin Chair in Economics, and Arnold Dashefsky, professor of sociology, the Doris and Simon Konover Chair of Judaic Studies. Their investiture ceremony was held in Konover Auditorium April 3. Photo by Peter Morenus
April 13, 2009 ¦ Volume 27, No. 27
Legislators' initial budget would restore funding to UConn
The state legislature's Appropriations Committee on April 2 approved a two-year budget proposal that increases state support for UConn's Storrs-based programs and the Health Center by more than $70 million above the support proposed for the biennium by Gov. M. Jodi Rell last month. Read more...
Report shows increase in external research support
Researchers in Storrs-based programs last year brought in more than $100 million in awards, a 9 percent increase compared to 2007. The increase came despite the fact that faculty submitted 178 fewer funding requests in 2008 than in the preceding fiscal year. Read more...
President Hogan to deliver 'state of university' address
University President Michael Hogan will deliver a State of the University address on Monday, April 20 at 4 p.m. in the Student Union Theatre. Faculty, students, staff, and the public are invited to attend. Read more...
State's elderly population increasing, study says
A recent report from UConn demographers shows that Connecticut's rapidly aging population is growing increasingly dependent on a dwindling workforce. Read more...
More headlines...

Multimedia...

RSS Feed of the UConn Advance

News Links

UConn News | UConn Health Center News | UCONN Magazine Athletics News

How To...

Suggest a story idea: please send e-mail to advance@uconn.edu, with "Story Idea" in the subject line. Please give as much notice as possible, and at least two weeks. Requests will be considered based on relevance to a broad audience and the availability of resources.

Have an event listed in the Advance Calendar section: please enter it online at events.uconn.edu at least two weeks prior to the date of the event. Please note that the Advance Calendar contains only events occurring during the week beginning with the date of publication.

Request permission to re-use a story or photo: please send e-mail to advance@uconn.edu, with "Re-use Request" in the subject line.

Make a change to the mailing list, please send e-mail to advance@uconn.edu, with "mailing list update" in the subject line. Please note that the Advance does not maintain separate mailing lists, but uses the databases maintained by the human resources departments at Storrs and at the Health Center. If you do not have access to e-mail, please send your request in writing to Advance, University Communications, 34 North Eagleville Road, Storrs, CT 06269-3144, or by fax to 860-486-2063, or call 860-486-3530.