With recent studies showing one in three older adults taking at least five prescription drugs and half regularly using dietary supplements or over-the-counter drugs, the need for proper medication management has become a critical health issue in Connecticut and elsewhere.
Students and faculty in the School of Pharmacy are doing their part by stepping up to help physicians manage their patients' medications to avoid potentially dangerous drug interactions and make sure patients are complying with their medication directives to improve their health.
At four locations around the state, pharmacy faculty and students are working alongside primary care physicians in helping manage underserved, uninsured patients suffering from persistent health problems.
The patients often have multiple chronic illnesses that are being treated with several medications and require regular medication management, says Marie Smith, head of the pharmacy practice department in the School of Pharmacy.
The students participate during their final year of the Doctor of Pharmacy degree program. By then, they have already completed five years of academic coursework in pharmacology, pharmacokinetics, pharmacotherapeutics, patient communication, and health care systems.
Toward a model program
The doctors and patients appreciate the help. "The primary care model is broken," Smith says.
"Doctors are overwhelmed and have limited time to manage complex medication regimens, learn about actual prescribed and non-prescribed medication use at home, detect drug interactions, and determine patient factors affecting medication compliance.
"UConn is helping build a model program that incorporates a pharmacist's expertise in medication management into a practical primary care system," she adds.
Individuals with diabetes, high blood pressure, high cholesterol, cardiovascular disease, asthma, chronic pain due to arthritis or osteoporosis, and those participating in smoking cessation programs are just some of the patients ideally suited for this kind of medication therapy management, Smith says.
Nearly 71 percent of physician office visits involve some form of medication management, according to the 2006 National Ambulatory Medical Survey.
A study published in the December 2008 issue of the Journal of the American Medical Association shows that an estimated 175,000 adults age 65 and older will visit the emergency room this year for treatment due to adverse drug reactions.
A separate study by researchers at the University of Illinois at Chicago showed that for every dollar spent by hospitals or health systems on clinical pharmacy services, $4.81 was saved through lower drug costs, fewer adverse drug events, and fewer medication errors.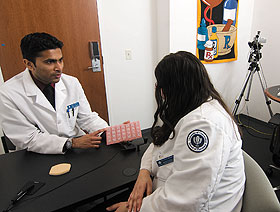 Pharm.D. students Sagar Makanji, left, and Christina Biondo discuss medication management. Photo by Frank Dahlmeyer
Meeting with patients
While clinical pharmacy services have been around since the late 1970's, expanded pharmacy practice through primary care and medication management is becoming increasingly common.
UConn is working with the Connecticut Pharmacists Association and other groups to expand the clinical pharmacist model to improve health care in other venues across the state. Advocates of the program say it could greatly improve health care delivery in hospitals, doctors' offices, community pharmacies, nursing homes, and other facilities.
Unlike traditional pharmacy services, in which a pharmacist dispenses medications, clinical pharmacists get more involved in patient care.
In UConn's model programs, Pharm.D. students – closely supervised by on-site faculty instructors – meet face-to-face with patients to make sure they have the right medication and are taking the prescribed dose.
They also make sure that the patients aren't taking any prescription medications or over-the-counter drugs that may interact with other medications, and provide advice to doctors, nurses, and patients about possible lower-cost alternatives.
The pharmacy students, with their particular expertise, review the medication lists, medical problems, and laboratory data in the patient's medical charts before their scheduled appointments. A list of medication-related problems and areas for improvement is then presented to the patient's physician.
Patients can also be referred by their primary care providers to pharmacist-led programs such as smoking cessation, cardiovascular risk management, a comprehensive medication review, and medication compliance programs, all initiated and maintained by UConn School of Pharmacy faculty and students.
Documentation of all patient care is incorporated into the patient's permanent medical record so it can be shared with other healthcare professionals involved in the patient's care.
The four Connecticut sites where UConn student and faculty do their work are: the Burgdorf Clinic at the Mt. Sinai Campus of St. Francis Hospital and Health Center in Hartford; the Brownstone Clinic at Hartford Hospital in Hartford; the Community Health Center in Meriden; and the Veterans Affairs Medical Center in West Haven. Plans are underway to expand the program to the Community Health Center in New Britain in the near future.