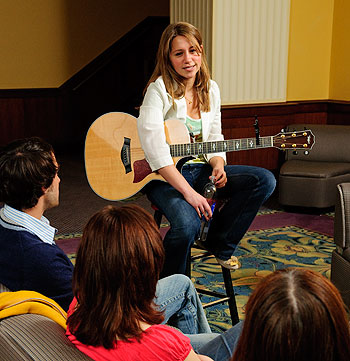 Vanessa Kafka '06 meets with a First Year Experience class. Kafka, a singer and songwriter, was on campus to give a performance on March 19 at the Jorgensen Center for the Performing Arts. Photo by Peter Morenus
Photo Extra
From left, Capt. Herman Bulls, U.S. Army Cadet Command; Lt. Col. Christine Harvey, professor of military science; President Michael Hogan; Brig. Gen. Arnold Gordon-Bray, deputy commanding general, U.S. Army Cadet Command; and Sgt. Daniel Pinion, senior military instructor, after a coin presentation to the President. Photo by Peter Morenus
March 30, 2009 ¦ Volume 27, No. 25
New program will boost date security on University computers
The security of personally identifiable data on University computers is being upgraded with a new encryption program. UITS will begin rolling out the program April 1, initially on Windows-based University laptop and desktop computers. Read more...
Faculty committee to review graduate programs
A committee to review graduate and professional programs at the University has been established by President Michael Hogan and Provost Peter Nicholls. Read more...
Library, museum hours reduced as cost-saving measure
The hours of the Homer Babbidge Library and two museums on campus will be cut, beginning March 30, because of budget concerns. Read more...
Foundation adapts to challenging economy
Faced with dramatic declines in investment markets, the UConn Foundation has taken steps to both stabilize its revenue sources and at the same time provide predictable spending allocations to the Schools and Colleges. Read more...
More headlines...

Multimedia...

RSS Feed of the UConn Advance

News Links

UConn News | UConn Health Center News | UCONN Magazine Athletics News

How To...

Suggest a story idea: please send e-mail to advance@uconn.edu, with "Story Idea" in the subject line. Please give as much notice as possible, and at least two weeks. Requests will be considered based on relevance to a broad audience and the availability of resources.

Have an event listed in the Advance Calendar section: please enter it online at events.uconn.edu at least two weeks prior to the date of the event. Please note that the Advance Calendar contains only events occurring during the week beginning with the date of publication.

Request permission to re-use a story or photo: please send e-mail to advance@uconn.edu, with "Re-use Request" in the subject line.

Make a change to the mailing list, please send e-mail to advance@uconn.edu, with "mailing list update" in the subject line. Please note that the Advance does not maintain separate mailing lists, but uses the databases maintained by the human resources departments at Storrs and at the Health Center. If you do not have access to e-mail, please send your request in writing to Advance, University Communications, 34 North Eagleville Road, Storrs, CT 06269-3144, or by fax to 860-486-2063, or call 860-486-3530.