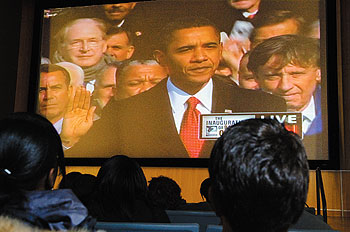 Students watch as Barack Obama takes the presidential oath of office on Jan. 20. The Student Union Theatre was one of a number of locations on campus that offered public screenings of the Inauguration. Photo by Peter Morenus
Photo Extra
Wendy Baier, a freshman marketing major, and Lynn Mraz, a freshman international business major, chat over a cup of coffee in the Wilbur Cross hallway. Photo by Jessica Tommaselli
January 26, 2009 ¦ Volume 27, No. 17
Study pegs UConn's impact on state economy at $2.3 billion
A nine-month study by a state economist indicates that ongoing operations at the University of Connecticut and its Health Center added $2.3 billion to Connecticut's gross domestic product in fiscal year 2008. Read more...
Genomics researcher named among handful at top of field
Xudong Yao, an assistant professor of chemistry in the College of Liberal Arts and Sciences, is being honored by Genome Technology magazine as one of the world's 30 top young investigators in the field of genomics and related sciences. Read more...
Hogan calls on managers to work a day without pay
Responding to a request from Gov. M. Jodi Rell, President Michael Hogan has urged non-unionized managers at the University to work a day without pay. The money saved will be returned to the State. Read more...
New online site connects colleagues for carpooling to Storrs campus
Two years ago, Scott Nixon, a web developer in the Department of Human Resources, decided to join forces with a friend and carpool to work from Plainville, about an hour's drive from Storrs. Why not create a University-wide web site that would allow others to do what he did, thought Nixon. Read more...
More headlines...

Multimedia...

RSS Feed of the UConn Advance

News Links

UConn News | UConn Health Center News | UCONN Magazine Athletics News

How To...

Suggest a story idea: please send e-mail to advance@uconn.edu, with "Story Idea" in the subject line. Please give as much notice as possible, and at least two weeks. Requests will be considered based on relevance to a broad audience and the availability of resources.

Have an event listed in the Advance Calendar section: please enter it online at events.uconn.edu at least two weeks prior to the date of the event. Please note that the Advance Calendar contains only events occurring during the week beginning with the date of publication.

Request permission to re-use a story or photo: please send e-mail to advance@uconn.edu, with "Re-use Request" in the subject line.

Make a change to the mailing list, please send e-mail to advance@uconn.edu, with "mailing list update" in the subject line. Please note that the Advance does not maintain separate mailing lists, but uses the databases maintained by the human resources departments at Storrs and at the Health Center. If you do not have access to e-mail, please send your request in writing to Advance, University Communications, 34 North Eagleville Road, Storrs, CT 06269-3144, or by fax to 860-486-2063, or call 860-486-3530.