During the last week of January, UConn student Kyle Carney's skills will be under the scrutiny of the National Football League's grounds crew at Raymond James Stadium in Tampa, Fla.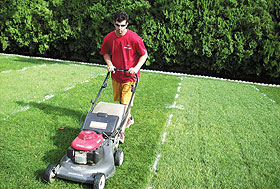 ABOVE: Kyle Carney, a student in the turfgrass program, created a mini NFL field on his parents' lawn as part of a scholarship application. BELOW: Kyle Carney used a hand-drawn stencil to create a painted Super Bowl XLIII logo on a mini NFL field he set up on his parents' lawn as part of his scholarship application. Photos supplied by Kyle Carney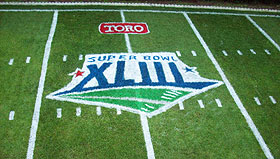 Carney, a second-year student in the Turfgrass Science Program in the College of Agriculture and Natural Resources, recently won the 2008 Toro Super Bowl Sports Turf Training Scholarship, and is working for a week with top NFL turf professionals to prepare the game field and practice facilities for Super Bowl XLIII on Feb. 1.
"It's an unbelievable opportunity," says Carney, who was selected over 35 other applicants from the U.S. and Canada.
The Minnesota-based international turf maintenance equipment company Toro collaborates with the Super Bowl grounds team to provide this training opportunity for "an emerging sports turf professional." The scholarship program covers all travel expenses for the winner.
Carney has a B.A. degree in economics, and worked for five years on the grounds crew of the Boston Red Sox's Pawtucket (Rhode Island) minor league baseball team. He enrolled in UConn's turfgrass program in 2007, and hopes to pursue a career in the professional sports turf industry.
At Storrs he has worked with UConn's athletics grounds department tending soccer, football, and lacrosse fields and honing his skills in pesticide and fertilizer applications, field renovation, topdressing, aeration, overseeding, mowing, and irrigation techniques. He has also worked as an intern on the grounds crew for the Washington Nationals baseball team.
Jason Henderson, an assistant professor of plant science who specializes in turfgrass management, says Carney "has developed a love for turfgrass management and goes at it 110 percent. The Toro scholarship is a phenomenal accomplishment."
The scholarship competition requires entrants to detail their work experience and write a 500-word essay describing their immediate career goals.
In his essay Carney, who hopes to work as a full-time assistant groundskeeper for the Pawtucket Red Sox after graduating this spring, shared his plans to develop a summer internship turfgrass management program for New England high school and college students, beginning this summer.
As part of his application, he also produced a booklet with photographs describing how he created a mini 20-foot by 20-foot NFL field in his parents' back yard, using a hand-drawn stencil to create a painted Super Bowl XLIII logo.