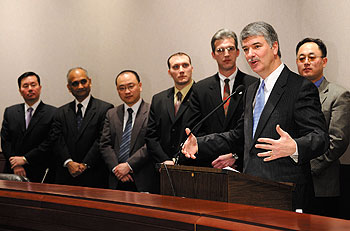 State Senate President Donald Williams, second from right, speaks during a press conference about the Eminent Faculty Program. From left are Mun Choi, dean of engineering, and Professors Prabhakar Singh, Tianfeng Lu, William Mustain, George Rossetti Jr., and Hanchen Huang. Photo by Peter Morenus
Photo Extra
Rep. Joe Courtney (D-2nd District) shares Munson's UConn Husky chocolate bards with U.S. soldiers during a visit to Iraq in December. Photo supplied by Munson's Chocolates
January 20, 2009 ¦ Volume 27, No. 16
Eminent Faculty team assembled
University President Michael Hogan and Senate President Donald Williams announced last month that the UConn now has six top alternative energy researchers associated with the state's Eminent Faculty Program, including the new director of UConn's Global Fuel Cell Center. Read more...
Engineering professor earns presidential award for underwater communications research
Shengli Zhou, director of the University's Wireless Communication Research Laboratory, has received a prestigious presidential award for his work on improving the efficiency of underwater acoustic communications. Read more...
Med students engage in debate on national health care policy
Recent discussions at the UConn School of Medicine may influence decisions about national health care policy. Read more...
Biologist discusses new model for conservation of tropical forests
Since more than 90 percent of the world's tropical forests are outside of reserves, parks, and protected areas, the survival of species of plants and animals that live in human-modified landscapes will require involving local communities in conservation strategies. Read more...
More headlines...

Multimedia...

RSS Feed of the UConn Advance

News Links

UConn News | UConn Health Center News | UCONN Magazine Athletics News

How To...

Suggest a story idea: please send e-mail to advance@uconn.edu, with "Story Idea" in the subject line. Please give as much notice as possible, and at least two weeks. Requests will be considered based on relevance to a broad audience and the availability of resources.

Have an event listed in the Advance Calendar section: please enter it online at events.uconn.edu at least two weeks prior to the date of the event. Please note that the Advance Calendar contains only events occurring during the week beginning with the date of publication.

Request permission to re-use a story or photo: please send e-mail to advance@uconn.edu, with "Re-use Request" in the subject line.

Make a change to the mailing list, please send e-mail to advance@uconn.edu, with "mailing list update" in the subject line. Please note that the Advance does not maintain separate mailing lists, but uses the databases maintained by the human resources departments at Storrs and at the Health Center. If you do not have access to e-mail, please send your request in writing to Advance, University Communications, 34 North Eagleville Road, Storrs, CT 06269-3144, or by fax to 860-486-2063, or call 860-486-3530.