Recent discussions at the UConn School of Medicine may influence decisions about national health care policy.
In November, Barack Obama, then president-elect, asked his transition team to facilitate community-level health care discussions throughout the country and use the ensuing flow of ideas as a resource in shaping his administration's health plan.
The School of Medicine chapter of the American Medical Student Association organized such a discussion, inviting students, faculty, staff, patients, and the public to participate in one of the two sessions held at the Patterson Auditorium on Jan. 7.
The sessions were recorded and students are sending audio and video files to the presidential transition team, along with written summaries of the discussions and of responses to surveys they asked the participants to complete.
Second-year student Erica Hinz, one of the student organizers, said that, because of the state of health care, she had been advised an "unbelievable" number of times not to attend medical school. She said that she hopes to convey to the new administration that "what we want is a new American health care system that really puts patients first."
Dr. David Henderson, associate dean for student affairs, praised Hinz and the other student organizers for "trying to have some influence in shaping a system that is rational and equitable and actually meets the needs of the population."
Among those attending – and taking notes – was Dr. K.J. Lee, a New Haven physician who serves on the Obama Health Care Reform Advisory Committee.
"Our job is to go around the country and listen for great ideas, and help President-elect Obama craft a health care plan that is good for the people," said Lee, who has sat in on similar events in Connecticut, mining for recommendations to pass along to the new Health and Human Services Secretary.
Chief among the recommendations is a call for better use of health care dollars.
"We have plenty of money in health care, spending $2.3 trillion," Lee said. "It's misspent, incentives are not aligned, and the stakeholders don't trust each other."
Lee invited the participants, and their friends and families, to send him information via e-mail about their experiences with the health care system.
Dr. Kathryn Doughty, a chief orthopedic resident at the Health Center, said, "The problem is not that we don't have the money to provide health care. The money is being used inefficiently. And part of that is, there needs to be some transparency about where the money's going."
Second-year student Teresa Doucet said, "In a culture where we provide and consume a lot of things in excess, our health care tests are no exception to that. The standard of care becomes governed by things like what's available and what works right now, and is not offering patients those things that are more evidence-based."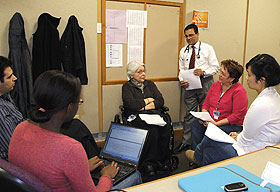 A discussion group at the Health Center exchanges ideas on national health care policy. From left, oncology fellow Nicolas Jabbour, medical student Chika Anekwe, librarian Alberta Richetelle, rheumatologist Dr. Santhanam Lakshminarayanan, psychiatrist Dr. Kathie Moffitt, and medical student Shan Shan Jiang. Photo by Chris DeFrancesco
Scott Selig of the Community Health Center Association of Connecticut said, "In the medical world, we get reimbursed for the tests that we do instead of getting some sort of administrative fee for seeing patients."
To search for a solution, he said, would require getting the payers and the providers in the same room: "There needs to be some way where we get everyone talking to each other."
Added Dr. Santhanam Lakshminarayanan, a rheumatologist at the Health Center's New England Musculoskeletal Institute, "Health care is primarily a for-profit industry, and until that changes, reform is meaningless and will probably never happen."
Economics were on the minds of many, particularly medical students with substantial student loans.
Second-year student Neena Qasba, another student organizer, said, "The issue of medical student debt needs to be addressed by the president-elect, especially if his administration hopes to provide universal coverage that is equitable for both providers and patients."
Other suggestions included improvements in patient advocacy and education.
First-year student Patty Davis said, "Often times, even when you're moderately educated, there are difficulties in communication between the doctor and patient, and patients get lost in the system, and it's even worse if you have poor literacy skills."
Dr. Ellen Eisenberg, chair of the Division of Oral and Maxillofacial Pathology at the UConn School of Dental Medicine, suggested that education about prevention should be started in the schools, even in preschool.
Primary care, reimbursement, tort reform, standardizing electronic medical records, and quality measures were among the other discussion topics. Between the afternoon and evening sessions, about 80 people attended.
Ronald Wallace from the Office of Research Safety was the lead faculty organizer.
For information about getting involved with similar health care events in the future, send an e-mail to: facesofhartford@gmail.com for upcoming event announcements.