A new study by sociologist Mary Fischer supports the view that colleges with diverse student bodies are places where students find new friends from other racial and ethnic groups.
The change in friendship networks is particularly strong for white students on the most diverse campuses, who often come to college from backgrounds where they had little exposure to non-whites.
Her findings, published in the September 2008 issue of the Social Science Quarterly, document what some have predicted about the benefits of greater diversity on campus.
The results of the study will likely add to the debate surrounding affirmative action, says Fischer, assistant professor of sociology and an affiliate of the Center for Population Research in the College of Liberal Arts and Sciences.
"It shows that interracial contact is an incredibly useful outcome from a college experience," she says.
While it may seem natural that greater diversity would lead to more interracial friendships, there have been concerns that more diversity would lead to self-segregation, with each racial or ethnic group keeping to itself.
In fact, Fischer's study did show that black students had a high number of friendships within their own group, considering that they were a minority on the campuses surveyed and were surrounded by non-blacks.
However, in the schools with greater diversity, students from all racial and ethnic groups came to have more diverse friendship networks. This effect was particularly strong for white students.
Her study is the first to examine the effects of diversity at such a large number of college campuses and to include Asians and Hispanics as well as blacks and whites.
The study used data from the National Longitudinal Survey of Freshmen, which covered 28 college and university campuses and surveyed 4,000 white, black, Hispanic, and Asian students.
Among the campuses surveyed were large public universities and small liberal arts colleges, including Tulane, the University of California at Berkeley, Kenyon College, Washington University, Yale, Wesleyan, Northwestern, the University of Michigan, Oberlin, Emory, the University of North Carolina, and Penn State.
The survey was commissioned in 1999 by investigators at the University of Pennsylvania, where Fischer received her Ph.D. in sociology and demography in 2003. Fischer was the project manager for the survey, which was conducted by Temple University's survey research center. The data are now housed at Princeton University.
The survey questioned freshmen in the fall and spring, and included waves of data collection over four years on topics that included college choice, majors, career plans, living arrangements, grades earned, and social relationships.
Data from the survey have been used for various sociological studies, some reported earlier. Fischer was co-author of a book published in 2002, Source of the River: The Social Origins of Freshmen at America's Selective Colleges and Universities, which used survey data to analyze why African American and Latino students did not perform as well as whites and Asians at elite colleges.
Fischer's diversity study excluded data from one of the surveyed schools, Howard University, a historically black institution that by definition had a less diverse student body.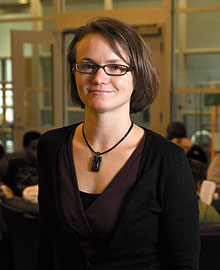 Mary Fischer, assistant professor of sociology, in the Student Union lounge. Photo by Frank Dahlmeyer
Expanding social networks
Fischer focused on the friendships students had before they came to college, and the type of friends they had at the end of their freshman year.
Students were asked in the fall interview about their previous experiences with interracial friendships in high school, and in the spring were asked about how many close friendships they had formed during the year with students from other racial groups.
Most incoming white freshmen came from neighborhoods and schools where they had little experience with people from other racial backgrounds, she found.
On campuses that are highly diverse, students of all racial and ethnic backgrounds ended the year with more diverse friendships, but with a particular impact on the social networks of white students.
Many minority students came from segregated backgrounds, too, and they developed more diverse friendships as freshmen in part because the colleges and universities surveyed were still mainly white schools.
At the end of the freshman year, students were asked to list how many of their 10 closest friends were white, Asian, Hispanic, or black. From this information, Fischer constructed an index of friendship diversity for each student.
Given that these campuses were predominantly white, it is not surprising that whites on average had the least diverse friendship groups, while Hispanics had the most friendship diversity. The averages for Asians and blacks fell in between.
She then modeled the relationship between individual students' friendship networks and campus racial composition.
Her results showed that while minorities have higher predicted friendship diversity than whites, this difference nearly disappears in the most diverse schools.
"There is a relationship between how diverse the campus is and students' individual friendship networks," she says.
"This feeds into the debate surrounding affirmative action."
Although admissions quotas to support affirmative action were deemed unconstitutional by the Supreme Court, colleges can consider race as a factor in admission, she notes.
The benefits of campus diversity on friendship diversity continue after college, Fischer says.
As she notes in her paper, other studies have shown that students who developed interracial friendships in college are more likely to live in integrated neighborhoods and to work and form friendships with people from other racial backgrounds.