J.R.R. Tolkien may have captured the minds of countless aficionados of fantasy fiction, but as a college professor at Oxford University in the early 1950s, he left something to be desired, at least according to one of his students.
"His mind was on finishing Lord of the Rings, and he was really musing to himself about the nature of narrative," British fantasy writer Diana Wynne Jones told author and critic Leonard Marcus, during an interview for Marcus's book on fantasy writers.
Marcus, a respected writer, historian, and critic of children's literature, read passages from his interviews with Wynne Jones and other fantasy writers from his book, The Wand in the Word, during a lecture at the Thomas J. Dodd Research Center on Oct. 22.
He traced the 300-year history of children's literature, as drawn in his latest book, Minders of Make-Believe: Idealists, Entrepreneurs, and the Shaping of American Children's Literature.
His lecture was sponsored by the Northeast Children's Literature Collection.
Moral tales
Marcus covered the history of children's books, from The New-England Primer (1690), which was designed to teach Puritan children how to read the Bible, to today's Harry Potter phenomenon.
Most of the books American children read in the early days of the new nation came from England. At that time, books often combined pleasure and instruction. Americans began to publish their own children's books in the 1820s, such as Mason Locke Weems' biography of George Washington.
Marcus said the approach to children's books shifted after the Civil War.
"The Civil War had such a horrific impact on American consciousness that it made the moral arbiters of the time less confident about what was right and what to tell children, giving rise to such stories as Mark Twain's Tom Sawyer, where you have a boy who is mischievous and yet you like him, not because everything he does is good but because he's true to the real way young children behaved," he said.
In the second part of the 19th century, there was a shift away from morality tales, Marcus said, and children were exposed to translations of Hans Christian Andersen's stories.
Toward the end of the 19th century, children's magazines proliferated, the most famous of which was St. Nicholas. The magazine counted Mark Twain, Louisa May Alcott, and Thomas Nast among its contributors.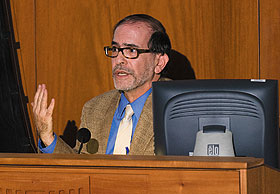 Leonard Marcus talks about children's literature in Konover Auditorium on Oct. 22. Photo by Jessica Tommaselli
Library space for children
Marcus noted that in the 1800s many public libraries did not admit children, but during the late 19th century and early 20th century — a period of great social reform — librarians set up children's rooms, believing they had a role to play in the social and cultural lives of children.
"These rooms were almost like the places you'd encounter in fantasy literature," he said, "they were removed from the adult world. They were meant to be happy, peaceful oases."
Ann Carroll Moore, head of the New York Public Library from 1906 to 1941, believed in a "once upon a time," escape approach, Marcus said. She replaced books such as The Hardy Boys and The Bobbsey Twins with works by Walter Crane, Beatrix Potter, and emerging American writers.
A number of progressive educators, on the other hand, such as Lucy Mitchell, founder of the Bank Street College of Education in New York, advocated contemporary stories set in modern cities, where most children were living by 1920.
Marcus said the comic books with adventure stories and superheroes that came on the scene in the 1930s and 1940s were opposed by librarians as sub-literary fantasies.
The 1960s brought new realism, with such titles as Emily Neville's Harriet the Spy.
Reading from his book Minders, Marcus also recounted the rise of Harry Potter, from its distribution in bound galley form by Scholastic publicity staff at the American Library Association's convention in 1998 to the midnight new release parties.
"It was an extraordinary moment," he said, "one that none of the experts in children's literature past or present … could have imagined, let alone planned. The gatekeepers of culture and commerce had been taken by storm. Children, it seemed, had once again made their choice."