Nutrition professor Rafael Pérez-Escamilla has been appointed to the national 2010 Dietary Guidelines Advisory Committee, which helps establish federal nutrition policy affecting millions of people across the country.
U.S. Agriculture Secretary Ed Schafer and Health and Human Services Secretary Mike Leavitt announced Pérez-Escamilla's appointment on Oct. 24. Pérez-Escamilla is one of 13 nationally-recognized experts selected to serve on the panel.
The federal Dietary Guidelines for Americans – most visible in the USDA's Food Guide Pyramid – are reviewed and revised every five years.
Three years ago, the 2005 Dietary Guidelines Advisory Committee made 41 key recommendations for better nutrition, including consumption of nine servings of fruit and vegetables a day, a daily sodium limit of 2300 mg (approx. 1 teaspoon of salt), and 60 minutes of moderate-to-vigorous exercise on most days to prevent weight gain.
"While the dietary guidelines are designed for a healthy population, they become increasingly important as we aim to reduce the burden of disease and death related to public health problems such as obesity, diabetes, cardiovascular disease, cancer, and other chronic illnesses," said Schafer, the Agriculture Secretary.
"This committee will consider the most current and sound scientific literature as the members develop their report."
Pérez-Escamilla is an internationally-recognized scholar in the areas of domestic and international community nutrition, here much of his work focuses on food safety, obesity, diabetes, and food security as it relates to Latino and low-income American populations.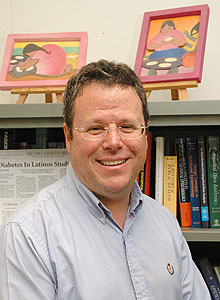 Rafael Pérez-Escamilla. File photo by Dollie Harvey
He is a professor of nutritional sciences and public health at UConn and the principal investigator and director of the Connecticut Center for Eliminating Health Disparities among Latinos in Storrs.
Pérez-Escamilla has served as senior advisor on food and nutrition policy to the governments of Mexico and Brazil, and has been a senior scientific advisor to maternal-child health and nutrition projects funded by several major international organizations.
His work has been continuously supported with more than $15 million in funding from the National Institutes of Health, the U.S. Department of Agriculture, the Centers for Disease Control and Prevention, and the Patrick & Catherine Weldon Donaghue Medical Research Foundation.
He is currently serving with a group re-examining federal pregnancy weight gain guidelines for the Institute of Medicine.
Says Pérez-Escamilla, "My appointment to the 2010 U.S. Dietary Guidelines Committee comes at a time in human history when scientific and social consensus has built around the notion that the decisions we make about our food choices can have profound implications, not only for our personal health but also for the overall health of our planet."