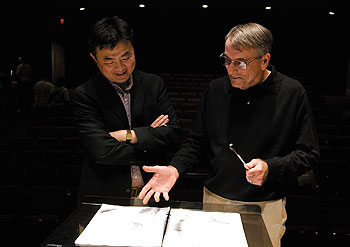 Yuhang Rong, left, associate dean of education, discusses a musical score written by his relative Lu Wei, with Jeffrey Renshaw, professor of music. Renshaw is conductor of the University Symphony Orchestra, which will premiere the work Oct. 10. Photo by Frank Dahlmeyer
Photo Extra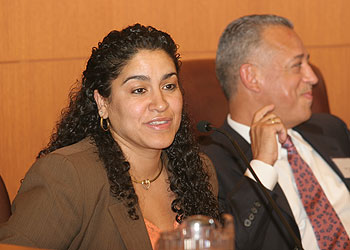 Heidi Avila '02 and Pedro Segarra '85 were participants on a panel of Law School graduates during the 25th anniversary of the Law School's Latino Law Students Association September 26. Photo by Tina Covensky
October 6, 2008 ¦ Volume 27, No. 7
Once hidden musical composition will premiere at UConn
A Chinese composer who hid his music from authorities during China's Cultural Revolution will realize a dream this week, when UConn musicians perform his lone surviving composition. Read more...
Economics panel predicts U.S. recession, not depression
The Great Depression was "great" because of what happened after the initial financial crisis, a scenario that probably won't be repeated in the current financial meltdown, said several economics faculty members at a forum on campus Sept. 30. Read more...
New version of PeopleSoft to debut later this month
A new and improved PeopleSoft system will be unveiled this month, full of changes that should make life easier for faculty, staff, and students. Read more...
New UConn commercial, website promote Husky loyalty
A new web site allows users to download the Husky fight song to their cell phones, post photos or videos, or join one of half a dozen UConn-related social networking groups. Read more...
More headlines...

Multimedia...

RSS Feed of the UConn Advance

News Links

UConn News | UConn Health Center News | UCONN Magazine Athletics News

How To...

Suggest a story idea: please send e-mail to advance@uconn.edu, with "Story Idea" in the subject line. Please give as much notice as possible, and at least two weeks. Requests will be considered based on relevance to a broad audience and the availability of resources.

Have an event listed in the Advance Calendar section: please enter it online at events.uconn.edu at least two weeks prior to the date of the event. Please note that the Advance Calendar contains only events occurring during the week beginning with the date of publication.

Request permission to re-use a story or photo: please send e-mail to advance@uconn.edu, with "Re-use Request" in the subject line.

For changes to the mailing list, please send e-mail to advance@uconn.edu, with "mailing list update" in the subject line. Please note that the Advance does not maintain separate mailing lists, but uses the databases maintained by the human resources departments at Storrs and at the Health Center. If you do not have access to e-mail, please send your request in writing to Advance, University Communications, 34 North Eagleville Road, Storrs, CT 06269-3144, or by fax to 860-486-2063, or call 860-486-3530.