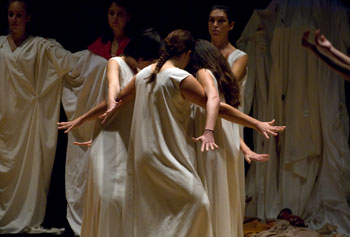 A performance of Euripides' tragedy The Bacchae at von der Mehden Recital Hall Sept. 21. One of 17 shows in a U.S. tour, the production in Storrs featured a chorus played by UConn students and women from the community. Photo by Frank Dahlmeyer
Photo Extra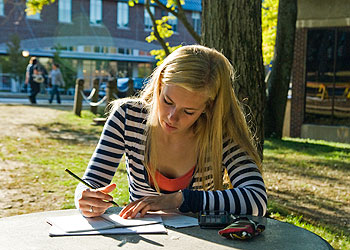 Kerry Duffy, a sophomore majoring in civil engineering, studies near West Complex. Photo by Jessica Tommaselli
September 29, 2008 ¦ Volume 27, No. 6
Academic Plan approved by Trustees
The Board of Trustees on Sept. 23 unanimously approved a new academic plan that is an ambitious road map for UConn's future, outlines where resources will be dedicated, and relies heavily on collaboration among departments and disciplines and between UConn and the public and private sector.Read more...
Achievements of 40 UConn alumni celebrated
Forty outstanding alumni, all under the age of 40, were recognized by the University during the weekend of Sept. 19-20. The 40 alumni will be featured in the fall/winter edition of UConn Magazine, and were recognized during a halftime ceremony at the UConn-Baylor football game on Sept. 19. Read more...
President forgoes bonus
President Michael J. Hogan's first year at the University was a resounding success, Dr. John W. Rowe, chairman of the Board of Trustees, said at a meeting Sept. 23. His outstanding performance is worthy of a "substantial" bonus – probably in the range of $100,000, said Rowe. But Hogan has asked the board to waive awarding the bonus and instead direct it back to the University budget in areas that will help sustain and advance outstanding graduate and professional programs. Read more...
Freshman class diverse, academically well prepared
The freshman class that arrived at the Storrs campus this fall was the most diverse and best prepared in UConn's 127-year history. The class this year, for the first time, has average SAT scores of 1200 – eight points higher than the class that entered last fall, and up 88 points since 1997. Read more...
More headlines...

Multimedia...

RSS Feed of the UConn Advance

News Links

UConn News | UConn Health Center News | UCONN Magazine Athletics News

How To...

Suggest a story idea: please send e-mail to advance@uconn.edu, with "Story Idea" in the subject line. Please give as much notice as possible, and at least two weeks. Requests will be considered based on relevance to a broad audience and the availability of resources.

Have an event listed in the Advance Calendar section: please enter it online at events.uconn.edu at least two weeks prior to the date of the event. Please note that the Advance Calendar contains only events occurring during the week beginning with the date of publication.

Request permission to re-use a story or photo: please send e-mail to advance@uconn.edu, with "Re-use Request" in the subject line.

For changes to the mailing list, please send e-mail to advance@uconn.edu, with "mailing list update" in the subject line. Please note that the Advance does not maintain separate mailing lists, but uses the databases maintained by the human resources departments at Storrs and at the Health Center. If you do not have access to e-mail, please send your request in writing to Advance, University Communications, 34 North Eagleville Road, Storrs, CT 06269-3144, or by fax to 860-486-2063, or call 860-486-3530.