Forty outstanding alumni, all under the age of 40, were recognized by the University during the weekend of Sept. 19-20.
The 40 alumni will be featured in the fall/winter edition of UConn Magazine, and were recognized during a halftime ceremony at the UConn-Baylor football game on Sept. 19.
The magazine, scheduled for publication on Nov. 1, is sent to 195,000 alumni, as well as parents of students and friends of the University, for a total circulation of 200,000.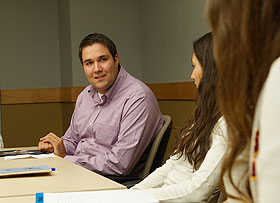 Christopher Hattayer '02, speaks with students at the Student Union. Hattayer is a foreign service officer in the Kyrgyz Republic in Central Asia. Photo by Peter Morenus
"The achievements of these remarkable UConn alumni demonstrate the ability of our students to make a real difference in their professions, their communities, our nation, and the world," says University President Michael J. Hogan.
"All of these talented young alumni have distinguished themselves in a wide range of disciplines within just a few years of earning their degrees," Hogan says.
"We are proud of the role the University of Connecticut has played in their exciting and successful careers. They set a great example for our next generation of UConn students."
The 40 Under 40 group returning to campus participated in a variety of activities, including interactions with student groups about their careers, experiences, and achievements.
The 40 alumni represent graduates from each of UConn's 14 schools and colleges.
Several of the young alumni being recognized by UConn are familiar names to the public – such as U.S. Rep. Christopher Murphy (D-5th District) of Connecticut and basketball star Emeka Okafor of the Charlotte Bobcats – but many are known as prominent figures within their professional worlds of science, education, business, the arts, law, engineering, social services, medicine, agriculture, health care, philanthropy, government, and athletics.
The 40 under 40 are:
Klaus Abels, 37 ('02 M.A., '03 Ph.D. in linguistics), London, England: lecturer and leading researcher in the Department of Phonetics and Linguistics at University College.
Jeanne Allgood, 38 ('92 B.A. in political science and journalism), West Hollywood, Calif.: executive, Wonderland Sound and Vision, whose credits include We Are Marshall and Terminator Salvation.
Jennifer Barnhart, 36 ('94 B.A. in acting), Brooklyn, N.Y.: actress and puppeteer featured on Broadway in Avenue Q.
Keith Bellizzi, 38 ('03 Ph.D. in human development and family studies), Berlin, Conn.: assistant professor of human development and family studies, University of Connecticut, formerly with the National Cancer Institute's Office of Cancer Survivorship.
T. Scott Case, 38 ('92 B.S. in computer science and engineering), Wilton, Conn.: co-founder of Priceline.com and Rewards for Justice Fund, founder of Direct Help, and now is executive director of Malaria No More.
Swin Cash, 28 ('02 B.A. in communication sciences), Seattle: professional basketball player and founder of Swin Cash Enterprises and Cash for Kids.
Kevin Clarke, 31 ('04 M.D. in medicine), Dallas, Texas: AIDS physician, member of Baylor College of Medicine Pediatric AIDS Corps, and co-founder of Friends of Zambian Orphans.
Stacey Violante Cote, 36 ('00 M.S.W. in social work, '01 J.D. in law), Collinsville, Conn.: staff attorney at the Center for Children's Advocacy Inc., and project director for the Center's Teen Legal Advocacy Clinic in Hartford.
Margaret Drozdowski, 35 ('98 D.M.D. in dental medicine), Farmington, Conn.: dental director, Community Health Center Inc. of New Britain.
Bryan Dumont, 35 ('97 B.A. in political science), Alexandria, Va.: senior vice president, APCO Insight, an opinion research and strategic communications services firm, Washington, D.C.
Stefanie (Pratola) Ferreri, 34 ('97 B.S. in pharmacy), Durham, N.C.: clinical assistant professor of pharmacy practice and experiential education and director of the community pharmacy residency program, University of North Carolina, Chapel Hill.
Lani Fortier, 26 ('04 B.S. in exercise science) Rye, N.H.: co-founder of Charity Global, which works to bring clean drinking water to people in developing nations.
Chunlei Guo, 37 ('99 Ph.D. in physics), Rochester, N.Y.: associate professor of optics and pioneering researcher in black metals, University of Rochester.
Christopher Hattayer, 28 ('02 B.A. in political science and international relations), Washington, D.C.: foreign service officer, U.S. Department of State, Kyrgyz Republic, Central Asia.
Tabitha Hitchcock, 37 ('93 B.S. in civil engineering), Mystic, Conn.: principal process engineer for General Dynamics Electric Boat, submarine contractor for U.S. Department of Defense.
Kristin Hoffman, 38 ('98 J.D. in law), Marlborough, Conn.: attorney with a practice in federal immigration law, member of the Board of Governors, and Connecticut chapter chair of the American Immigration Lawyers Association.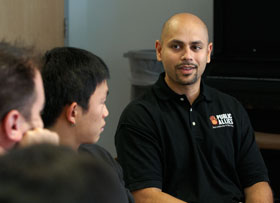 Fahd Vahidy '95 speaks with students at the Asian American Cultural Center. Vahidy is executive director of Public Allies of Connecticut. Photo by Peter Morenus
M. Scott Holcomb, 35 ('94 B.A. in political science), Atlanta, Ga.: general counsel, J.P. Turner & Co. LLC and former chief of international and operations law, U.S. Army Judge Advocate General Corps in Kuwait.
James Hormuzdiar, 38 ('94 B.S. in electrical engineering and mathematics), Hayward, Calif.: co-founder of Robot Genius, security software company in Oakland, Calif.
Rebecca Lobo Rushin, 34 ('95 B.A. in political science), Granby, Conn.: broadcaster for ESPN, author, and active in a variety of philanthropic organizations. Member of the UConn Board of Trustees.
Brett McGurk, 35 ('96 B.A. in political science), Washington, D.C.: director for Iraq at the National Security Council in the White House and former clerk to William Rehnquist, Chief Justice of the United States.
Mikki Meadows-Oliver, 36 ('06 Ph.D. in nursing), Hamden, Conn.: assistant professor at the Yale School of Nursing and clinical director for the pediatric lead poisoning and asthma outreach programs at Yale-New Haven Hospital.
Kevin Molloy, 37 ('93 B.S. in resources economics and '98 M.S. in agricultural economics), New York, N.Y.: senior vice president of distribution finance at AXA Equitable Life Insurance Co., a leading financial protection company.
Irina (Tsikhelashvilli) Moore, 36 ('04 M.B.A. in business), New Haven, Conn: vice president of risk management for GE Money, the consumer and small financial services unit for General Electric.
Christopher Murphy, 35 ('02 J.D. in law), Cheshire, Conn.: member of the U.S. House of Representatives for the 5th Congressional district in Connecticut.
Ilia O'Hearn, 37 ('93 B.A. in business, '04 J.D. in law), Manchester, Conn.: associate in the financial restructuring group at Bracewell & Giuliani, an international law firm, and president of the Connecticut Hispanic Bar Association.
Emeka Okafor, 25 ('04 B.S. in finance), Charlotte, N.C.: professional basketball player and spokesman for One Million African Lives, which raises funds to help screen blood transfusions for AIDS in Africa.
Eric Owles, 34 ('98 B.A. in journalism and political science), Brooklyn, N.Y.: chief multimedia producer for NYTimes.com and war correspondent covering Iraq for the blog, "Baghdad Bureau: Iraq from the Inside."
Jonathan Plucker, 38 ('91 B.S. in chemistry, '92 M.A. in special education), Bloomington, Ind.: prolific researcher and professor of educational psychology and cognitive science at Indiana University.
Althea Marshall Richardson, 38 ('91 B.S. in human development and family studies), New Haven: president and CEO of Empower New Haven, a nonprofit that administers more than $27 million in federally-funded development grants to low-income neighborhoods.
Craig Rodner, 34 ('00 M.D. in medicine), Simsbury, Conn: assistant professor in the department of orthopaedic surgery in the New England Musculoskeletal Institute at the UConn Health Center, specializing in hand, wrist, and upper extremity problems.
Carlos Rodrigues, 34 ('95 B.S. in accounting), Naugatuck, Conn: principal and chief financial officer of Pequot Capital Management and CFO of Pequot Ventures in Westport, Conn.
Richard Ruiz, 36 ('98 M.F.A. in acting), Astoria. N.Y.: actor who has performed at many of the nation's leading resident repertory companies, including The Long Wharf Theater in New Haven, and the New York Public Theatre, and who has performed in leading roles with national touring theatrical productions.
Christine Sansevero, 36 ('95 B.S. in engineering), Roslindale, Mass.: senior enforcement officer in the Air Technical Unit of the U.S. Environmental Protection Agency.
Elizabeth Flynn Scott, 38 ('91 B.A. in psychology), Wynnewood, Pa.: co-founder of Alex's Lemonade Stand Foundation, named in memory of her late daughter, which has raised more than $18 million to support research and awareness for childhood cancer.
Matthew H. Small, 36 ('98 M.B.A., '99 J.D., combined business and law degrees), Washington, D.C.: chief legal officer and secretary, Blackboard Inc., provider of enterprise software and systems integration services to host online classes at universities and corporations.
Peter Tesei, 39 ('91 B.A. in political science), Greenwich, Conn.: First Selectman of Greenwich, after serving 18 years in the banking industry.
Anthony Uliano, 38 ('93 B.A. in finance), Richmond, Va.: co-founder, president and chief technology officer of AMC Technology, named one of the fastest growing private companies in the United States.
Fahd Vahidy, 34 ('95 B.S. in human development and family studies, '98 M.A. in educational psychology), Bridgeport, Conn.: executive director of Public Allies Connecticut, which prepares young adults for careers working for community and social change.
Marcela de Jesus Vergara-Jimenez, 39 ('98 Ph.D. in nutritional sciences), Culiacán Sinaola, Mexico: professor of nutrition sciences and department head of nutritional sciences at the Autonomous University of Sinaloa, Mexico.
Alicia A. Young, 36 ('95 B.A. in communication sciences), New York, N.Y.: executive vice president and head of the consumer technology division for Ruder Finn Group, the second-largest independent public relations firm in the world.