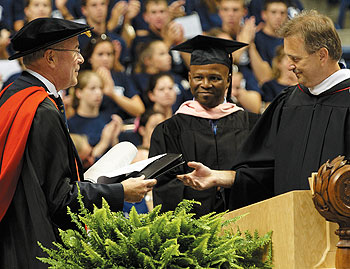 Provost Peter J. Nicholls, left, receives a list of new students from M. Dolan Evanovich, right, vice president of enrollment management, planning, and institutional research, during Convocation, as Lee Melvin, director of undergraduate admissions, looks on.
Photo by Peter Morenus
September 2, 2008 ¦ Volume 27, No. 2
Create your own vision, Hogan tells freshmen at Convocation


"We're looking for students who will bring a sense of wonder to their classrooms and will inspire their teachers as much as their teachers inspire them," President Michael J. Hogan told the Class of 2012 during Convocation in Gampel Pavilion Aug. 22. Read/View more...
School reform organization moves to UConn
A nationally recognized school reform organization has moved its headquarters to the Neag School of Education, the latest step in making UConn a prominent center for urban school reform. Read more...
Researcher studies rates of cesarean sections, malpractice suits
There may be a relationship between cesarean delivery rates and medical malpractice rates, according to research by Dr. Jeffrey Spencer, a fellow in maternal fetal medicine at the Health Center. Read more...
Correctional facility served by Health Center receives health care award
The National Commission on Correctional Health Care (NCCHC) has selected York Correctional Institution in Niantic to receive this year's NCCHC Facility of the Year Award. Read more...
More headlines...

Multimedia...

RSS Feed of the UConn Advance

News Links

UConn News | UConn Health Center News | UCONN Magazine Athletics News

How To...

Suggest a story idea: please send e-mail to advance@uconn.edu, with "Story Idea" in the subject line. Please give as much notice as possible, and at least two weeks. Requests will be considered based on relevance to a broad audience and the availability of resources.

Have an event listed in the Advance Calendar section: please enter it online at events.uconn.edu at least two weeks prior to the date of the event. Please note that the Advance Calendar contains only events occurring during the week beginning with the date of publication.

Request permission to re-use a story or photo: please send e-mail to advance@uconn.edu, with "Re-use Request" in the subject line.

For changes to the mailing list, please send e-mail to advance@uconn.edu, with "mailing list update" in the subject line. Please note that the Advance does not maintain separate mailing lists, but uses the databases maintained by the human resources departments at Storrs and at the Health Center. If you do not have access to e-mail, please send your request in writing to Advance, University Communications, 34 North Eagleville Road, Storrs, CT 06269-3144, or by fax to 860-486-2063, or call 860-486-3530.
Photo Gallery
University President Michael J. Hogan, second from left, and his wife Virginia, left, pose for a photo with Melina Mascaro, a freshman, and her parents Sally and Rocco of Farmington, during the picnic hosted by the President Aug. 22. Photo by Peter Morenus