The National Commission on Correctional Health Care (NCCHC) has selected York Correctional Institution in Niantic to receive this year's NCCHC Facility of the Year Award.
This prestigious award is presented each year to only one facility selected from among the 500 prisons, jails, and juvenile detention and confinement facilities that participate in the commission's nationwide accreditation program.
Health care at York is offered through Correctional Managed Health Care (CMHC), a partnership between the Health Center and the Department of Correction to deliver comprehensive health care to inmates in all of the state's 18 correctional facilities.
"We are delighted that NCCHC is recognizing the dedication to patient care, the hard work, the consistency, and the creativity of our staff and of the custody personnel," says Dr. Robert Trestman, professor of medicine and psychiatry at the Health Center and executive director of CMHC.
"It's our vision to become national leaders in correctional healthcare. This is a wonderful milestone along that path."
York is Connecticut's only correctional institution for women. It has more than 1,300 inmates ranging from teenagers to senior citizens. The medical unit consists of 64 sub-acute beds, divided into 32 medical beds and 32 mental health beds. Approximately 140 full and part-time employees staff the unit.
Health services are available to inmates 24 hours a day, seven days a week. "It's like a mini-hospital inside the prison," says Connie Weiskopf, director of nursing and patient care services with CMHC.
Weiskopf says the NCCHC surveyors were impressed with how the York staff consistently demonstrated excellence in health service delivery and professionalism. They also noted the variety of positive programs available to the population, she says.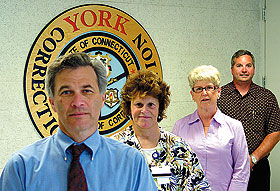 From left, clinical director Steven Lazrove, nursing supervisors Dianne Carter and Jane Hall, and administrator Ron Labonte, at York Correctional Institution.
Photo by Andrius Banevicus, Connecticut Department of Correction
Those programs include perinatal as well as hospice services and chronic care clinics for hypertension and diabetes. Specialty clinics include infectious disease, ob-gyn, surgical, ophthalmology, dentistry, and oral surgery.
The York Correctional Institution voluntarily applied for and was initially awarded NCCHC accreditation in 2002; it has been continuously accredited since. There are 72 essential and important standards that correctional institutions strive to comply with, and York is compliant with virtually all of them.
The NCCHC health services accreditation is a voluntary program for prisons that strive for national recognition by adhering to benchmark health care standards initially set by the American Medical Association.
The NCCHC's surveyors include certified correctional health administrators, nurses, and other medical professionals. During the re-accreditation process, they conducted more than 65 interviews with inmates, correctional officers, and CMHC staff.
The Facility of the Year Award will be presented at a ceremony Oct. 20 in Chicago, during the NCCHC's National Conference on Correctional Health Care.