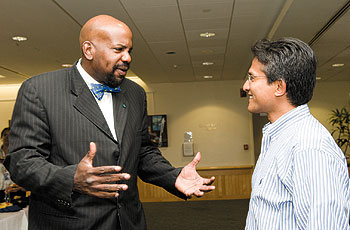 Dr. Cato T. Laurencin, left, who joined the Health Center as vice president for health affairs and dean of the School of Medicine in August, speaks with Timorty Hla, director of the Center for Vascular Biology, during a reception Aug. 20.
Photo by Lanny Nagler
August 25, 2008 ¦ Volume 27, No. 1
Health Center reviewing hospital affiliation proposals
University officials are reviewing proposals from area hospitals to form affiliations with the Health Center to update its clinical facilities and strengthen its education and research programs. Read more...
CHEFA director named to UConn's top finance post
Richard Gray, executive director of the Connecticut Health and Educational Facilities Authority (CHEFA), has been appointed UConn's vice president and chief financial officer. He will join the University on Aug. 29. Read more...
New fund to help students cope with crisis situations
When an out-of-state UConn student learned that his parent unexpectedly died, he was faced not only with coping with his grief but also with the financial challenge of trying to fund an unplanned trip home. Read more...
Campus readied for new academic year
As students gear up for classes, UConn's landscaping group and contractors have been sprucing up the campus for their return. Read more...