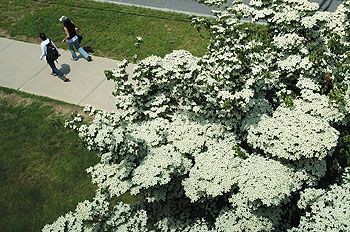 A view of a Kousa dogwood tree in bloom outside the Torrey Life Sciences Building.
Photo by Peter Morenus
June 23, 2008 ¦ Volume 26, No. 33
Pathobiologist to share expertise with policymakers
Steven Geary, a professor of pathobiology who specializes in infectious diseases of animals, is one of eight tenured professors nationwide selected to be 2008-09 Jefferson Science Fellows at the U.S. Department of State in Washington, D.C. Read more...
Three nursing faculty receive profession's highest honor
Three University of Connecticut nursing professors have been elected to the American Academy of Nursing, the highest honor for nurses in the country. The American Academy of Nursing is the most prestigious professional organization for nurses in the United States. Read more...
Spike Lee to base new movie on physics professor's book
Physics professor Ronald Mallett's boyhood dream of building a working time machine may enter warp speed, now that he's signed a film deal with director Spike Lee. Read more...
Polymer expert's lifetime of study garners international acclaim
Polymers are found everywhere in the natural world, and engineering professor Robert Weiss has devoted his career to manipulating polymers to produce an array of useful products, from better golf balls to improved proton exchange membranes for fuel cells. Read more...