"Okay, it's time to let someone else drive now," says Dr. Joseph DeAngelis, a fifth-year resident in orthopaedics, as he watches a first-year resident grapple with an arthroscope deeply embedded in the foot of a cadaver.
The first-year resident is learning to "drive" in the Bioskills Laboratory, on the upper floor of the Health Center's New England Musculoskeletal Institute. This is where physicians specializing in orthopaedics can learn the rules of the road in their field without doing harm to a living patient.
The "steering wheel" in this case is an arthroscope – a flexible fiberoptic scope, the size of a long drinking straw, fitted with a miniature camera, a light source, and precision tools. It has become a primary tool of the trade for an orthopaedist – used both for diagnostic procedures and for a wide range of surgical repairs.
Gaining skill, alleviating anxiety
"The first day, we were unfamiliar with the equipment and weren't really sure what to do," says Dr. Andrew Ritting, a first year orthopaedic resident.
"You don't want to start your second year of residency and be on a scope service and never have seen or held a scope before. The more time we spend here in the bioskills lab, the more it helps alleviate some of the anxiety." And Ritting will spend plenty of time here – approximately 250 hours during his five-year post-graduate residency program.
Learning to master the arthroscope is critical to the success of an orthopaedic surgeon and, unless you're a whiz at video games, it's much harder than you would think.
The lab is equipped with six operating stations and full-size plasma screen monitors capable of projecting both the procedures underway in the lab and actual surgical procedures in the operating room suites two floors below.
"The lab is divided into stations, and we run it almost like an athletic practice," says Dr. Augustus Mazzocca, an orthopaedic surgeon, an active team physician for the UConn athletic teams, and director of the bioskills lab.
At one station, for example, second-year residents are practicing with the scope on the shoulders of a cadaver. At another station, third-year residents are working on subacromial decompressions, the surgical treatment for shoulder bursitis. And at a third, the fifth-year residents are doing rotator cuff repair.
"Every year they continue building on their skills, so when they get into the Operating Room, they have a better understanding of the procedure and will be able to assist the surgeon more effectively," says Mazzocca.
Dr. Kate Doughty, a fourth-year orthopaedic resident, says, "It's daunting to be faced with a living patient and be expected to use the scope. Practice in the lab gives us a level of comfort and confidence that we would not have otherwise."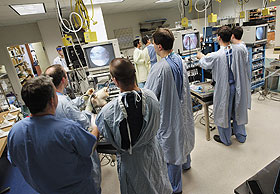 Physicians training to be orthopaedic surgeons practice their skill with the arthroscope in the Bioskills Laboratory at the Health Center's New England Musculoskeletal Institute, under the supervision of Dr. Augustus Mazzocca, far left.
Photo by Judy Griesedieck
The Health Center's bioskills lab is one of only a few nationwide. Orthopaedic surgeon Dr. Robert Arciero compares it to the Orthopaedic Learning Center in Chicago, the premier cadaveric bioskills educational facility in
the country. "Ours may be smaller, but it is exactly as well-equipped," he says.
More than a training facility
Dr. Jay Lieberman, chairman of the Department of Orthopaedic Surgery and head of the New England Musculoskeletal Institute, says the lab "provides an opportunity to develop new surgical procedures or refine older methods to make them better," he says.
These new techniques are tested in the state-of-the-art biomechanics laboratory, adjacent to the bioskills lab. It's equipped with a variety of machines capable of testing the forces exerted by muscles and gravity on various joints, soft tissues, and the spine.
The Health Center's sports medicine surgeons have developed new techniques that are tested in the biomechanics lab, then performed on cadavers, and subsequently used with patients.
Arciero and Mazzocca are internationally recognized for their innovative techniques to improve traditional shoulder surgery.
The new methods developed here, now being used by surgeons around the world, offer patients greater comfort and range of motion and less chance of a second injury.
"We have a biomechanics lab that tests the procedure; we have a bioskills lab where we work out the imperfections and make sure we're proficient at doing it; and then we have an outcomes department that looks at what we do and makes sure we're as successful as we think we are," says Mazzocca.
Lieberman says many patients benefit from the fact that the Health Center has these labs.
"You can't get the same experience using a computer or other type of simulation, even plastic models," he says. "It's important to practice the touch and feel of a real body."
Adds Dr. James Boyle, a fifth-year resident, "These are technical, hands-on skills. You can't read about it in a book and just go into the operating room and do it. The opportunity to practice in the bioskills lab takes a bit of the learning curve out of the OR and puts the learning curve here in the lab."