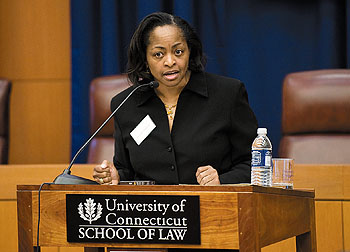 Carol Anderson, associate professor of history at the University of Missouri, delivers the Day Pitney Visiting Scholar lecture at the Law School on March 5.
Photo by Spencer Sloan
News Links
March 17, 2008 ¦ Volume 26, No. 23
Public policy still puts blacks at disadvantage, says historian
The disaster in New Orleans in the aftermath of Hurricane Katrina was "the legacy of decades of public policy," said Carol Anderson, an associate professor at the University of Missouri and the 2008 Day Pitney Visiting Scholar at the UConn Law School. Read more...
Women's basic rights ignored in many countries, says speaker
Despite widespread acceptance of treaties and declarations that bar discrimination based on gender, "women's most basic rights – the right to work, to own property, and to make choices on family status and reproduction – have been subordinated in too many parts of the world that dictate subservience to husbands, fathers, brothers, even in-laws," Patricia Wald says. Read more...
Gift from Dorothy Goodwin to support museum education
Former State Rep. Dorothy C. Goodwin, a retired professor of agricultural economics, bequeathed more than $140,000 to the University of Connecticut, her alma mater. She died last June at the age of 92. Read more...
Nancy Johnson to speak on health care, March 25
Former U.S. Rep. Nancy Johnson (R-CT), a 24-year veteran of Congress and recognized authority on health policy, will deliver a lecture at UConn titled "The Birthing of a New Healthcare System" on Tuesday, March 25. Read more...