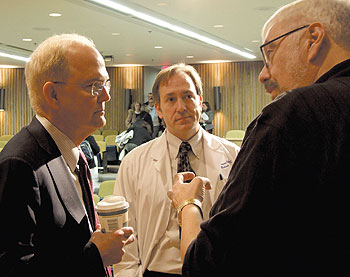 University President Michael J. Hogan, left, speaks with Donald Peterson, director of the biodynamics laboratory, center, and Donald Kreutzer, professor of molecular biology, after a 'town meeting' at the Health Center Feb. 15. Hogan, Dr. Peter Deckers, and Provost Peter Nicholls discussed the reorganization, the Health Center's financial situation, and the search for a new vice president and dean of the medical school.
Photo by Sheryl Rosen
News Links
February 25 , 2008 ¦ Volume 26, No. 21
Revised Academic Plan nearing completion
A revised Academic Plan that will set the future direction and priorities for the entire University, including the Health Center, is now nearing completion. Read more...
Endowed fellowship fund to honor CLAS dean
When Ross MacKinnon, dean of the College of Liberal Arts and Sciences (CLAS), was asked how friends and colleagues could honor him when he retires at the end of this academic year, his wish list had one item: by giving to the new CLAS Graduate Fellows Fund. Read more...
Former International Criminal Tribunal judge to give Sackler human rights lecture March 3
Patricia Wald, who served for two decades on the U.S. Court of Appeals for the District of Columbia Circuit and also was U.S. Judge on the International Criminal Tribunal for the Former Yugoslavia at The Hague, Netherlands, will deliver the 14th Annual Raymond and Beverly Sackler Distinguished Lecture in Human Rights on March 3. Read more...
Connecticut Conference on Natural Resources set for March 10
The second annual Connecticut Conference on Natural Resources will be held March 10 at the Student Union. Read more...