When you think of hazardous work, manicurist probably isn't the first job that comes to mind. But if you're pregnant, you should be aware of the risks.
The polishes, acrylics, and other products used in nail salons contain some 20 chemicals flagged by the Environmental Protection Agency as having potential symptoms and health effects.
"We're seeing a substantial number of women who work in the beauty industry who are concerned about whether they can work during their pregnancies," says Dr. John Meyer, an assistant professor in the Division of Occupational and Environmental Medicine at the Health Center.
The Division partners with the Connecticut Pregnancy Exposure Information Service to provide clinical evaluations and expertise in reducing or preventing workplace exposure that may affect fertility, maternal health, pregnancy, and fetal development.
Meyer says the division gets up to 140 calls a year on the toll-free risk line from workers or their physicians.
Anne Bracker, an industrial hygienist at the Health Center who often evaluates worrisome workplaces, says "nail salons have become a hot topic. Complaints have increased, as the number of nail technicians has jumped 374 percent nationwide."
Women make up 96 percent of the industry's workforce.
"Many of these women need to stay employed because of their financial situation," Bracker says, "so we try to keep them working, but suggest changes so their work environment is safer."
There's a lack of studies about the potential reproductive toxicity of nail polish. The health risks of a particular chemical are often based on whether it exceeds exposure limits developed for industrial settings.
"The standards are designed to prevent acute problems, like respiratory difficulty or intoxication that develop soon after a large dose," says Meyer.
"They aren't set up to protect against cancer and chronic disease that develop from long-term, low-dose exposure."
In addition, many of the standards have not changed since the Occupational Safety and Health Administration first set limits in 1970, when the populations it studied were mostly male.
"They don't take into account female reproductive health outcomes or exposure during pregnancy," Meyer says.
At a nail salon, chemicals of concern include solvents such as acetone.
Studies show that when laboratory workers are exposed to similar solvents without proper ventilation, there is a small but increased risk of miscarriages, birth defects, and, at high levels, learning deficits similar to fetal alcohol syndrome, says Meyer.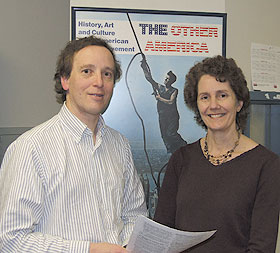 Dr. John Meyer, assistant professor of occupational and environmental medicine, and Anne Bracker, an industrial hygienist, at the Health Center.
Photo by Carolyn Pennington
Dibutyl phthalate, a plasticizer that makes nail polish more flexible, may be toxic to the reproductive system; but most of the research on phthalates is based on animal studies, and it is difficult to predict human response.
The salon should not be using liquid methyl methacrylate (MMA), which the Food and Drug Administration has stated is a "poisonous and deleterious substance that should not be used in fingernail preparations."
Bracker says that if a salon's clients' artificial nails are very hard to remove and if its prices are substantially cheaper for a full set of artificial nails, that should be a red flag that they may still be using products containing MMA.
Following a call to the risk line, a pregnancy exposure assessment may be done. It may include clinical assessment by a physician, evaluation by an industrial hygienist, and review of epidemiologic and toxicologic databases for information on the reproductive hazards of the individual's workplace.
In some instances, with the the patient's permission, a site visit can be arranged to the worksite to evaluate processes and materials for any potential reproductive hazards that may be present.
Meyer says recommendations may be made to the worker, her workplace, and her physician, obstetrician, or midwife, so that exposures of concern can be reduced or eliminated.
There are several steps nail salons can take to improve the working environment. These include making sure the salon is well ventilated, by keeping windows open or using manicure tables with a built-in ventilation system; covering trash and product containers; and wearing fitted disposable dust masks and gloves.
Thanks to a grant from the March of Dimes of Connecticut, a fact sheet listing potential risks and safety recommendations is now available for nail salon workers.
The fact sheets are distributed to physicians' offices and are available online.
Bracker and Meyer hope to produce similar fact sheets for other occupations, including dental hygienists, veterinary assistants, and women who work in the cleaning industry.