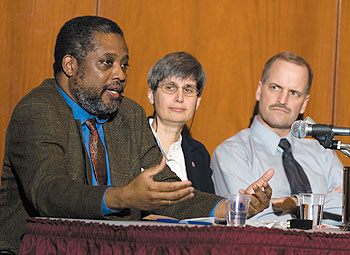 Norman Garrick, left, associate professor of civil and environmental engineering, speaks during a climate change awareness event Jan. 31. Other panelists shown are Brenda Shaw, associate professor of chemistry, and David Wagner, professor of ecology and evolutionary biology.
Photo by Frank Dahlmeyer
News Links
February 11 , 2008 ¦ Volume 26, No. 19
Governor announces revisions to 2009 budget
Connecticut Gov. M. Jodi Rell on Feb. 6 unveiled adjustments to the state's budget for fiscal year 2009 that leaves intact UConn's original appropriation, leaves untouched a $6.5 million appropriation that addresses the Health Center's 'academic gap,' and adds $10.9 million to the Health Center's budget for fiscal year 2008 to cover a current year shortfall. Read more...
Panel discusses University's efforts to promote environmental sustainability on campus
Against a backdrop framed by the knowledge that the environment will be one of three focus areas in Provost Peter Nicholls' new Academic Plan, and a pledge from President Michael Hogan that UConn will become a leader in the environmental movement, a panel of faculty on Jan. 31 discussed what UConn can do to promote environmental sustainability on campus. Read more...
Three engineering faculty receive recognition
Three engineering faculty members have been selected by the Institute of Electrical and Electronics Engineers (IEEE) to receive honors: Yaakov Bar-Shalom and Bahram Javidi, both of the electrical & computer engineering department, and Sanguthevar Rajasekaran of the computer science & engineering department. Bar-Shalom and Javidi will receive their awards in the fall. Read more...
UConn joins national recycling contest
UConn's environmentally conscious students are at it again. Fresh from coordinating Focus the Nation, a successful campus-wide awareness event, the EcoHusky organization has signed on to join a nation-wide competition, Recyclemania – which involves not only students, but faculty and staff too. Read more...