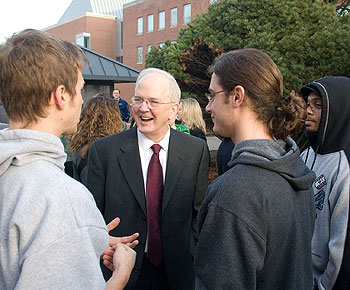 President Michael J. Hogan speaks with, from left, seniors Kevin Pasquaretta and Fred Brewer, and Ryan Brown, a freshman, as they prepare to leave for Biloxi, Miss., on Jan. 8. Some 50 student volunteers and a staff member from the University spent 12 days in Biloxi during winter break to help in the continuing efforts to clean up and rebuild after Hurricane Katrina.
Photo by Sean Flynn
January 22 , 2008 ¦ Volume 26, No. 16
Hogan announces plans to restructure
A plan to reorganize the central administration has been announced by President Michael J. Hogan. The plan is intended to strengthen the University's research and graduate education and foster greater collaboration between the Health Center and the Storrs campus. Read more...
Glenn Ferguson, former UConn president, dies
Glenn W. Ferguson, president of the University from 1973 to 1978, died Dec. 20 in Santa Fe, N.M. He was 78. Ferguson served as president from 1973 to 1978. Read more...
Focus the Nation climate change awareness events for January 29-31
The University of Connecticut is participating in Focus the Nation, a nationwide climate change awareness and education event Jan. 29-31. Read more...
Researchers share findings during Musculoskeletal Research Day
The second annual New England Musculoskeletal Institute Research Day was held recently at the Health Center. The event is an opportunity for scientists and clinicians to present their latest research findings. Read more...