The second annual New England Musculoskeletal Institute Research Day was held recently at the Health Center.
The event is an opportunity for scientists and clinicians to present their latest research findings.
"This is an important event for the New England Musculoskeletal Institute because it not only promotes scientific collaboration throughout the Health Center but gives clinicians and scientists an opportunity to interact," says Dr. Jay Lieberman, director of the New England Musculoskeletal Institute and professor and chair of orthopaedics.
"Our ultimate goal is to move our research from the bench to the bedside to enhance the care of patients in this region and throughout the nation, and this Research Day promotes that mission."
This year, the program focused on three topics that are critical elements in the Institute's strategic plan: tissue regeneration and repair; cell and tissue biology; and clinical and translational sciences.
More than a dozen researchers from both the Storrs and Farmington campuses made presentations during the day.
The researchers represented several different areas of expertise, including vascular biology, reconstructive sciences, materials science and engineering, and orthopaedic surgery.
"You can come away with certain ideas or understandings that may help you in your research or spur you to collaborate with others on some new idea," says Hector Leonardo Aguila, assistant professor of immunology.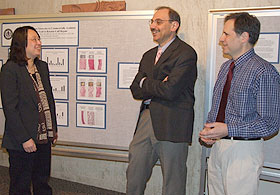 From left, Mei Wei, associate professor of materials science and engineering, speaks with Dr. Joseph Lorenzo, professor of medicine in the Division of Endocrinology and Metabolism, and Dr. Martin Freilich, professor of oral rehabilitation, biomaterials and skeletal development.
Photo by Carolyn Pennington
Aguila is part of a research team studying how embryonic stem cells could help rebuild cartilage, bone, fat, and muscle.
"For instance, I was very impressed with Tim Hla's research presentation (Hla is a professor of cell biology and the director of the Center for Vascular Biology). Because he's in a completely different field of research, he offers a different vantage point, but at the same time, I can see commonalities in our research that may help me draw different conclusions in my own research."
"This conference offers an important exchange of ideas and often spurs other discussions," says Dr. Martin Freilich, professor of oral rehabilitation, biomaterials and skeletal development, one of the Research Day presenters.
"I received feedback after my presentation that provided me with some good insight that will help further my research."