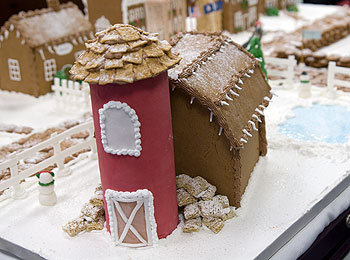 Gingerbread houses representing buildings on the Storrs campus, created by UConn bakery manager Robert Min and his staff. The gingerbread houses are on display from Thanksgiving until after Christmas in the lobby of Gulley Hall. Others are on display in the Wilbur Cross Building.
Photo by Frank Dahlmeyer
December 3, 2007 ¦ Volume 26, No. 14
Homeland security program receives federal funds
The Department of Homeland Security has awarded a $1,334,200 competitive training grant to the Center for Continuing Studies at UConn. Read more...
Linguistics department part of prestigious international research consortium
When Professor Mamoru Saito was looking for institutional partners to form an international consortium on linguistics, UConn was one of five he chose from around the world. Read more...
Provost announces 2007 Outreach Award winners
The winners of this year's Awards for Excellence in Outreach and Public Engagement were announced by Provost Peter J. Nicholls during a reception Nov. 27, in the Wilbur Cross North Reading Room. Read more...
Huskies invited to bowl game December 29
The UConn football team has accepted a bid to play in the 2007 Meineke Car Care Bowl. Read more...