When Professor Mamoru Saito was looking for institutional partners to form an international consortium on linguistics, UConn was one of five he chose from around the world.
"We listed the top linguistics programs in the world, and contacted five of them," says Saito, a professor of linguistics at Nanzan University in Japan, who heads the consortium and had collaborated with UConn researchers previously.
The consortium, which is funded by the Japanese government, has six participating institutions: the University of Cambridge; the University of Hyderabad, India; Nanzan University; the University of Siena, Italy; Tsing Hua University, Taiwan; and UConn.
"Each of the consortium participants has an excellent linguistics program and an impressive group of researchers," says Saito. "We are now doing even better by combining forces.
"The UConn linguistics program is the most established among the six," he adds, "and its participation makes the consortium very attractive."
In establishing the consortium, says UConn linguistics professor Diane Lillo-Martin, the Japanese "wanted to replicate what happens naturally here, having a large number of international students work together on projects and make comparisons across languages.
At other universities, there are not so many international students. The consortium creates a 'meta-department,' a large department in the sense that students and faculty work together and get together at certain times in different places."
The UConn linguistics department has nine faculty members and up to 30 Ph.D. students. It does not award master's or bachelor's degrees, but offers a number of general education courses and joint undergraduate majors in linguistics and psychology and linguistics and philosophy.
"The linguistics department is actively promoting international opportunities for doctoral students," says William Snyder, department head, "and is being recognized on the international scene as a leader in doctoral education in the field of linguistics."
The consortium's research focus is on language acquisition and syntactic theory, both areas of specialization at UConn.
Saito says comparative research is very important in the field of linguistics.
"As the goal of linguistics is to uncover the nature of the innate language faculty, unique to humans, comparative research plays an important role," he says.
"For this reason, important projects often take the form of international joint research. The main purpose of the consortium is to provide an opportunity for graduate students to get training in this kind of research."
Since its founding in 2006, the consortium has held four joint graduate seminars and seven workshops with graduate students.
Each institution has hosted at least one event. Sometimes all the members meet; at other times, meetings are held for subgroups working on particular projects.
Participants also communicate with each other on an ongoing basis through e-mail. The working language is English.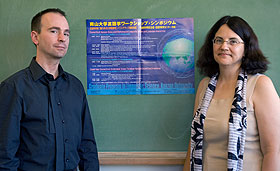 William Snyder, head of the linguistics department, and Diane Lillo-Martin, professor of linguistics, with a poster advertising a workshop organized in Japan last spring by an international consortium for comparative research.
Photo by Frank Dahlmeyer
Last spring, four UConn doctoral students attended a workshop in Japan on the topic of language acquisition.
They were selected partly on the relevance of their research, and partly on the basis of a written proposal outlining how they would contribute and how they expected to benefit.
Natasha Rakhlin, a former Ph.D. student who has since graduated, gave a presentation on how children acquire an understanding of English sentences with quantifiers.
"There was strong interest from people at Tsing Hua University who are doing a similar experiment with children acquiring Mandarin Chinese," says Snyder.
"They wanted to adapt experiments Natasha had done in the U.S. for use in Taiwan."
Another student, Jean Crawford, is studying African languages and linguistics. As a result of her trip to Japan, she is also becoming interested in Japanese linguistics, and hopes to run child language experiments with students in Japan.
"Thanks to the consortium, I now have a network of colleagues all over the world," Crawford says, "and I now have the resources to look at problems from a range of perspectives."
A third UConn Ph.D. student, Sandra Wood, is conducting research on homesigned systems (gestures and signs deaf people develop on their own) and acquisition of signed languages. Wood, who gave a presentation in American Sign Language while in Japan, says she was fortunate to find two interpreters, one Japanese and one American, who knew ASL as well as Japanese and English.
She also made contact with a student at Nanzan University who does research on Japanese Sign Language.
Wood says she appreciates the opportunities the consortium provides for networking on a smaller scale than at conferences.
"We also had classes with other students, which gave us a means of meeting them and engaging in dialogue about our work and the lecture topic," she says.
She particularly enjoyed a class given by Professor Luigi Rizzi of the University of Siena, a leading expert on syntax and psycholinguistics.
Lillo-Martin says participating in international research collaborations will help UConn graduate students in their careers.
Not only will they be better qualified to apply for academic jobs but they can ask for letters of recommendation from faculty in the consortium.
Adds Saito, "I am sure that they will continue to collaborate even after they complete their Ph.D.s, and contribute to the development of the international research community."