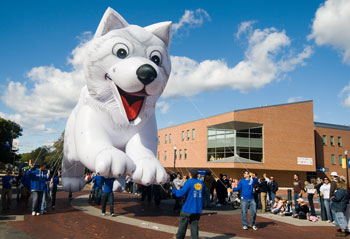 Students lead SUBOG's giant Jonathan balloon during the Homecoming parade October 14.
Photo by Peter Morenus
October 22, 2007 ¦ Volume 26, No. 9
Chair in Judaic Studies established with gift from Konovers
Two founding supporters of the Center for Judaic Studies and Contemporary Jewish Life at the University, Doris and Simon Konover of West Hartford, will endow the Center's first faculty chair. Read more...
University reaccredited, evaluators enthusiastic
The New England Association of Schools and Colleges' Commission on Institutions of Higher Education has reaccredited UConn for another 10-year term, noting in glowing terms the University's decade-long transformation. Read more...
Provost's group seeks to foster women as academic leaders
Kathleen Holgerson recently learned first-hand what it is like to walk in the shoes of one of the highest administrators at the University. Holgerson, director of the Women's Center, accompanied Provost Peter Nicholls for a week as he engaged in his day-to-day tasks, in a pilot "shadowing" program organized by the Provost's Commission on the Status of Women (PCSW). Read more...
Environmental conference set for November 1
Town and state officials will join a group of UConn faculty and staff on November 1 to discuss the science and politics of climate change, what is being done about it on a local level, and what can be done. Read more...