Barry Rosenberg's assignment: Tell the story of Abstract Expressionist painter Jackson Pollock's turbulent life, tragic death, and lasting legend in- and outside the art world.
Rosenberg's approach: Watch recent movies about Pollock. Surf the Internet. Shop eBay. Download clips from YouTube.com.
Rosenberg may sound like a student, but he's not. He is the curator of UConn's Contemporary Art Galleries (CAG). And he wants to reach out to students.
His latest show, JACKSON, which runs through Nov. 30, is designed to show Pollock – one of the most famous American painters of the 20th century – as an enduring cultural icon and commercial product.
He also hopes to engage students in learning about Pollock's far-reaching influence through the communications media they use on a daily basis.
Pollock was known for his revolutionary painting technique of working directly over un-stretched canvas using freely applied paint straight out of the can.
The CAG curator admits he is "old enough to remember the controversy surrounding Pollock's style of painting," which he says was "first put on the map" in a 1949 Life magazine article.
The article is on display as part of JACKSON.
Yet Rosenberg also is keenly aware that the existence of new media means that the way contemporary art curators – particularly those in university settings – work is in constant flux.
"I like my shows to be backdrops for other things," he says.
In recent years, Rosenberg has made a point of picking themes for his exhibits from different aspects of campus life – touching on topics ranging from kissing, to the math department and the University library system.
For the spring, he plans a show on ornithology, drawing on one of the strengths of UConn's ecology and evolutionary biology department.
In the case of JACKSON, Rosenberg chose an artist with the potential to interest as many students as possible because of his effusive cultural presence more than 50 years after his death.
"There aren't many artists who transcend the art world the way Pollock does," Rosenberg says. "Dali and Warhol certainly do, but it's a short, short list."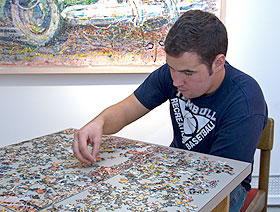 Casey Durand, a junior majoring in marketing, pieces together a puzzle depicting one of Jackson Pollock's works. The puzzle is part of an exhibition of works inspired by the art and life of Pollock at the Contemporary Art Galleries.
Photo by Frank Dahlmeyer
"If there can be a movie like this," Rosenberg says, holding up a copy of the 2000 Oscar-winning film Pollock directed by Ed Harris, "it shows you Pollock has become commercial product."
On eBay, Rosenberg purchased a Pollock mouse pad, a Pollock-style dress, and a Pollock jigsaw puzzle for the exhibition.
Students are helping him assemble the puzzle.
From YouTube.com, he downloaded videos of amateurs trying to create their own Pollock-style paintings.
The CAG curator also included two other movies as part of JACKSON – Who the #$&% Is Jackson Pollock, a 2006 documentary following a woman who purchases a painting from a thrift store for $5 only to discover it may be a Pollock; and Pollock Squared, a Bill Rabinovitch film currently in post-production that blends animation and actors in a satire of the Ed Harris Pollock movie.
Rosenberg also secured some of the work on display as part of JACKSON through more traditional channels.
He gained permission to show original Hans Namuth photographs of Pollock at work from Namuth's son, Peter, and borrowed a Robert Arneson painting he purchased for his previous art galleries at Wright State University.
The painting depicts Pollock behind the wheel of the convertible Oldsmobile he drove to his death in 1956.
"I have shown Pollock's artwork in the past, but I have never devoted an exhibit to showing his life through other artists," Rosenberg says.
"The exhibition simultaneously showcases good art and art work as a historical presentation of Pollock's life. There is one artist notably missing from JACKSON: I was offered, but chose not to have, a Pollock as part of this show."