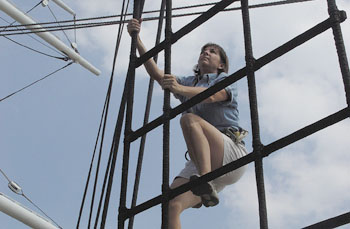 Helen Rozwadowski, associate professor of history and coordinator of maritime studies at the Avery Point campus, climbs the rigging of a whaleship at Mystic Seaport.
Photo by Nathan Adams
July 23, 2007 ¦ Volume 25, No. 34
For the summer, the Advance is on a monthly schedule. The weekly schedule will resume August 27.

Deckers to step down from Health Center leadership
Dr. Peter J. Deckers, dean of the School of Medicine since 1995 and executive vice president of health affairs since 2000, has informed the University leadership that he will step down from both positions on June 30, at the conclusion of his appointment. Read more...
New dean of engineering named
Mun Young Choi of Drexel University has been named as the next dean of UConn's School of Engineering. He will begin in January 2008. Read more...
Chief financial officer to retire
Lorraine M. Aronson, the University's chief financial officer, will retire in May 2008. She says she is retiring for personal reasons, including a wish to spend more time with her family. Read more...
English language program teaches students about American culture
Students from more than 25 countries on six different continents come to UConn each year for one purpose: to learn English at the University's American English Language Institute. Read more...