Before studying in Liverpool, England, Devon Benedict never knew of that city's involvement in the African slave trade.
"It's not something that's mentioned in high school history books," he says.
Benedict was among 10 UConn students who participated in a three-week Study Abroad program at the University of Liverpool this summer.
The group studied black history, focusing on the culture and politics of 400 years of black settlement, and the role Liverpool played in the African slave trade.
Students met with individuals and community groups, attended lectures on contemporary issues, and visited social, political, and cultural sites.
They earned six academic credits.
The students also traveled to Wales, London, and Germany.
Benedict, a senior from Trumbull majoring in economics, says the experience broadened his horizons.
"It gave me a deeper and more complete sense of my history and identity. I learned a more complete and accurate history of the slave trade, and that it all began in Liverpool," he says.
The Liverpool experience had the same effect on Ashley Cazeau, a senior from Stamford majoring in biological sciences.
"The Study Abroad has given me a new way of looking at my surroundings," she says.
"I find myself looking at buildings here in the United States and wondering about the history behind them."
The program, in its sixth year, is offered to students who take part in Student Support Services (SSS), through UConn's Center for Academic Programs.
These services are offered to low-income and first-generation college students.
"When I started the program, I had to beg students to go," says Bidya Ranjeet, director of SSS and founder of Liverpool Study Abroad. "Now it has really caught on.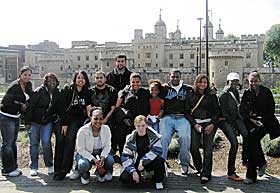 UConn SSS students, along with some British students, took an excursion to London during a Study Abroad program based in Liverpool. The focus of the course was on black history and Liverpool's role in the slave trade.
Photo by Ashley Cazeau
The students who participate want to go back there as interns.
"Once the students leave the U.S. and look at this country from another perspective, they gain an appreciation of some of the things they may take for granted here."
Paul Concepcion, a junior from Stamford majoring in economics, says the trip gave him a better understanding of African and Caribbean heritage and how they contribute to his culture.
He says he can't wait to come back to UConn next semester.
"I have a totally different perspective on how I should go about furthering my education," he says.
"I've always wanted to do something in business, particularly in financial services. After this trip, my goal is to do an internship abroad."
Vilma Rodrigues-Silva was surprised by the difficulties faced by people of color in Liverpool.
"The black community is still living in what we call projects or ghetto areas," she says. "Even people who are educated can't make their way in the world. There's more progress here in America."
Ross Lewin, director of Study Abroad, says, "The UConn Liverpool program serves as a role model for colleges across the nation on how to increase participation in Study Abroad among first-generation students. The Center for Academic Programs has done an exemplary job in finding the funding, facilitating the application process, and developing a curriculum that meets the particular needs of these students."
Rodrigues-Silva says visiting London was a special treat.
"It was wonderful to see places I had read about, like the Tower of London and the Houses of Parliament. I studied these in art history, and it was great to be there in person."