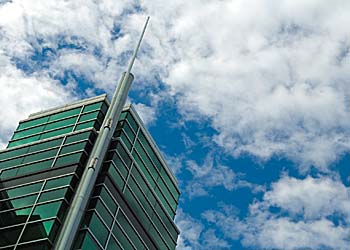 The peak of the Information Technologies Engineering Building against a cloudy sky.
Photo by Peter Morenus
June 18, 2007 ¦ Volume 25, No. 33
For the summer, the Advance is on a monthly schedule. The next issue will be published Monday, July 23.

Consulting, research encourage by legislature
Faculty and members of faculty bargaining units may continue to consult and do research with private and public entities, as a result of recently enacted legislation. The Connecticut General Assembly provided that such arrangements do not violate the state's code of ethics. Read more...
Neag students improve recess at inner city schools
Recess – which, researchers say, improves student attentiveness, health, and social skills – just got a whole lot better at Batchelder Elementary School. That's because of the efforts of four UConn teacher education students. Read more...
Dorothy Goodwin dies at 92
Dorothy Goodwin, who taught economics at UConn for many years and was a former member of the General Assembly, died June 10 at her home in Bloomfield. Read more...
2007 grad wins scholarship to law school
A 2007 UConn graduate is one of the first five recipients of a new full scholarship to the University of Washington School of Law in Seattle. Salmun Kazerounian, who majored in cognitive science and philosophy, has been awarded a William H. Gates Public Service Law Scholarship. Read more...