UConn plant breeder and researcher Mark Brand is always seeking candidates for stardom.
His latest prospect, an ornamental grass he developed and propagated for more than a decade in the greenhouses and fields of the plant science department, is about to hit the big time.
Ruby Ribbons, a new variety of Panicum virgatum – or switch grass – with blue-green base foliage that turns a deep wine-red color months earlier than other red switch grasses, is being launched for wholesale production this month.
The firm launching the grass, the West Chicago-based Ball Horticultural Co., is the world's largest breeder-producer of ornamental plants, with distribution companies in 19 countries around the globe.
In the highly competitive horticultural industry, Ball's decision to market Ruby Ribbons to retailers such as Wal-Mart and Lowe's is equivalent to baseball's "grand slam.
" Every year hundreds of new plants are introduced by American breeders and growers with the hope of commercial success. Just a handful are selected.
"It's certainly nice they came on board," Brand, a professor of plant science, agrees, with modest understatement.
"They have a lot of influence in the horticultural world, and when they decide to pick something up and do all the marketing, they obviously expect it to perform well for them."
Garden plants are big business. Sales of floral and bedding plant sales generated $15 billion in 2003.
With so much money at stake, companies compete fiercely to produce the next "hot" new cultivar.
Ornamental grasses are relative newcomers to American gardens but are becoming more popular, as gardeners realize their beauty and ease of care, says Brand.
Cultivated for their intriguing color, varying angles of arches and plumes, and distinctive masses of foliage, they provide eye-catching appeal.
And low maintenance requirements, a long season of ornamental interest, and tolerance of many soil types, have the horticultural industry scrambling to develop new varieties to meet an increasing demand among gardening consumers.
Ruby Ribbons' soft blue-green foliage emerges in the spring on upright, clumping plants. The foliage takes on a wine-red color in early summer, which intensifies as the season progresses, Brand says.
Flower heads appear in late summer, followed by ornamental seed heads which, if left uncut, provide long-lasting winter interest. Plants mature at about 3 to 4 feet in height, with a spread of 2 to 3 feet.
"Ornamental grasses have become very trendy," Brand says, adding that the movement toward native plants in the landscape helps.
"Grasses give lots of bang for the buck. For a $15 plant, you get lots in return. It's the kind of thing people buying now are looking for."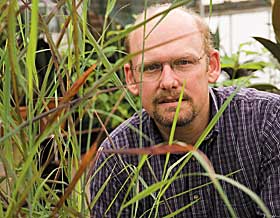 Mark Brand, professor of plant science, with a new breed of ornamental grass he developed, known as Ruby Ribbons.
Photo by Peter Morenus
Brand has previously introduced more than a dozen hardy rhododendron cultivars suited to the climate of New England.
These are currently under evaluation by Monrovia, another large horticultural company, based in California.
He began the ornamental grass-breeding program in the early 1990s, with the goal of developing durable grasses with new colors that would perform well in the region.
"It was clear that grasses were coming in vogue," he says, "and my thinking was to create a new variety that would develop color earlier and last longer. So I took an existing popular variety that had steel-blue foliage and pollinated it with an older cultivar that developed red foliage later in the summer."
Creating new grasses is a slow process. It took several years before Brand developed the new Ruby Ribbons variety from successfully hybridized clumps.
The original Ruby Ribbons plant was selected as the best plant from among 200 seedlings in trials conducted in the field.
Initially Brand had the new ornamental grass variety evaluated by several Connecticut nurseries, including Prides Corner Farms, a large plant wholesaler based in Lebanon, Conn.
When they expressed interest in negotiating an exclusive marketing license, Brand contacted Gregory Gallo, director of technology licensing with UConn's Center for Science and Technology Commercialization.
"We thought we had a show stopper," Gallo says.
"Once the folks at Prides Corner saw the color, the dramatic way this variety of grass changes color, it really caught their eye," he adds. "Their attitude was, 'This is going to be a winner.'"
Because Brand wanted to do business with both Prides Corner and the Ball Horticultural Co., Gallo worked out a deal that allows Ball – primarily interested in wholesaling trays of small plants to intermediate growers – an exclusive license to sell propagating plants worldwide.
Prides Corner – which concentrates on selling landscape plants – has a limited exclusive right to sell two- to three-gallon size plants that may retail for as much as $22.
Gallo says it's premature to talk about the amount of royalties UConn may obtain. "What is really beneficial for the University is that UConn's name will be on all the plants sold," he says.
"It gets the UConn name out before the everyday gardener everywhere."