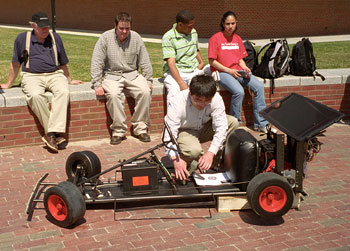 Rui Shu hooks up a voltmeter to a solar-powered car being demonstrated on Fairfield Way by Professor Martin Fox, left, and students during the EcoHusky Earth Day celebration April 23.
Photo by Peter Morenus
April 30 , 2007 ¦ Volume 25, No. 30
This is the last weekly issue of the Advance this semester. We will publish twice in May – on May 14 and May 29 – and once each in June and July. We will resume weekly publication in the fall semester, beginning Aug. 27. Have a great summer!

New student recreation facility discussed
The need for a new student recreational facility and outdoor fields was the focus of discussion last week at the annual meeting of the Trustees, Administration, Faculty, and Students Committee (TAFS). Read more...
Psychologist says challenges boost long-term learning
Classroom performance is not a reliable indicator of whether long-term learning has occurred, according to cognitive psychologist Robert Bjork, Distinguished Professor and Chair of Psychology at the University of California-Los Angeles, who spoke at Konover Auditorium April 25. Read more...
Women of Color Award-winners named
Susana Ulloa, Fe Delos Santos, and Debra Booker have been named recipients of the 2007 Women of Color Recognition Awards. The awards recognize outstanding contributions to the University and excellence in leadership, achievement, and service. Read more...
Johnson's, Simmons' Congressional papers donated to Dodd Center
Researchers will be offered important new insights into Connecticut's political landscape following the donation of the Congressional papers of former U.S. Reps. Nancy Johnson and Rob Simmons to the Thomas J. Dodd Research Center. Read more...