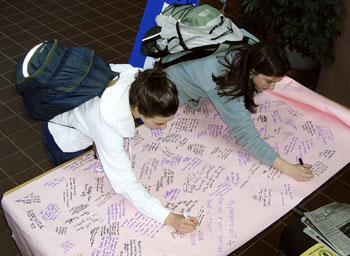 Devorah Donnell, left, and Krista Rashleigh, both sophomores, sign a poster to be sent to Virginia Tech as a gesture of sympathy after a gunman's killing spree last week left 33 people dead at the campus in Blacksburg, Va.
Photo by Peter Morenus
April 23 , 2007 ¦ Volume 25, No. 29
New policy on consulting approved by Board of Trustees
To help faculty members avoid any appearance of conflict of interest, the University has developed new policies on consulting and conflict of interest that clarify oversight for faculty activities and require annual reporting, both at the Storrs-based programs and at the Health Center. Read more...
Author, Nobel laureates to speak at Commencement
An internationally renowned novelist, two Nobel laureates, and leaders in education, business, finance, and the arts highlight the University's 2007 Commencement ceremonies, which will be held during the first three weekends in May. Read more...
Dining hall to be named for former board chair
The Towers Dining Hall will be renamed to honor Roger A. Gelfenbien, former chairman of the Board of Trustees. Read more...
Expanded natural history museum reopens April 29
The Connecticut State Museum of Natural History will celebrate its recent expansion with a reopening event together with the new Connecticut Archaeology Center on April 29. Read more...