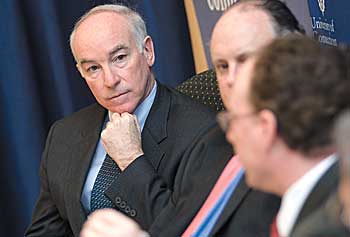 From left, Congressman Joseph Courtney (Conn. 2nd Dist.), Charles Hinkley, founder of Noble Environmental Power, and Richard Parnas, associate professor and director of the chemical engineering program, were part of a panel on energy security during a summit on the future of eastern Connecticut on April 5 at the Student Union.
Photo by Daniel Buttrey
April 9 , 2007 ¦ Volume 25, No. 27
Media images stereotype girls, foster violence in men, say speakers
Girls are bombarded by advertisers with images of princesses, fairies, and things that are sexy, pink, and glittery, and this entrenches stereotypes of girlhood, according to Sharon Lamb, co-author of Packaging Girlhood: Rescuing Our Daughters from Marketers' Schemes. Read more...
Common template to strengthen web presence
As part of a continuing effort to enhance the University's visual presence, there is now a standard website design that all campus units are expected to adopt by the end of the calendar year. Read more...
Doctoral program in business growing as demand increases
The Ph.D. business has never looked better for UConn's School of Business. What began as a small doctoral initiative in the fall of 1987 has grown into an internationally recognized program, as the demand for business faculty with Ph.D.'s has risen around the world. Read more...
Environmental policy office creates new compliance unit
A new Environmental Compliance Office has been established in the Office of Environmental Policy, allowing University administrators to improve compliance with environmental regulations and permits, while also saving money by reducing reliance on outside consultants. Read more...