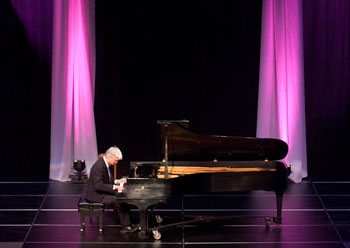 Pianist Neal Larrabee, associate professor of music, performs during an inaugural concert on March 18 celebrating the new chamber stage at the Jorgensen Center for the Performing Arts.
Photo by Jordan Bender
March 26 , 2007 ¦ Volume 25, No. 25
Center to foster translation of medical research into practice
The Patrick & Catherine Weldon Donaghue Medical Research Foundation has pledged $1.75 million to name and support The Ethel Donaghue Center for Translating Research Into Practice and Policy (TRIPP) at the Health Center. Read more...
UConn Foundation takes steps to divest from Darfur
The UConn Foundation will formally request that its investment managers withdraw funds invested in the Sudan, where hundreds of thousands have died as a result of a genocide campaign, and some 2.5 million have been displaced. Read more...
Scholars to discuss science, ethics, humanity
An all-day celebration of the humanities on March 30 will consider how breakthroughs in science and technology raise questions about what it means to be human. Read more...
New database to help faculty share international expertise
Nearly three dozen faculty have already signed up for a new international expertise database that will be used to match researchers with grant opportunities and connect faculty and staff looking for advice from others experienced with particular countries or universities. Read more...